In January, Reno HUD Community Builders joined with the Office of Community Planning and Development (CPD) in San Francisco and launched a Rural Tour 2001: a comprehensive outreach campaign to provide technical assistance and program information to economically distressed rural communities in Northern Nevada.
Rural Tour 2001 covered 1200 miles over a five day period. Project consultations, program briefings, an economic development forum, and a town hall meeting were held in Carson City, Pyramid Lake, Winnemucca, Elko, Ely, Eureka, and Hawthorne. Discussions were targeted at identifying near term actions responsive to critical local housing and economic development needs and strategies.
| | |
| --- | --- |
| | The very rapid overall job growth within Nevada's metropolitan areas mask the fact that 9 rural counties have experienced significant declines in annual employment and population. |
The rapid decline of high paying mining jobs and secondary declines in the trade sector have had a devastating effect on local economic conditions. The rates of foreclosures and business closings have increased by over 100 percent in several counties. In FY 2000, declining tax bases have contributed to fiscal crises in several local school districts and a reduction of public services. The overall effect unemployment and out migration is an effective job loss rate of over 20 percent and a significant reduction to the median area incomes in rural counties.
Responding to changing economic conditions has been difficult for most communities. Isolation, limited access to investment capital, lack of business and non-profit capacity, and inadequate local governmental funding sources make it difficult for rural communities to undertake efforts to create jobs and meet essential needs.
Rural Tour 2001 sought to overcome barriers by working with community organizations to address funding gaps, develop housing and community service programs, increase participation of community organizations, and promote comprehensive strategies for community development.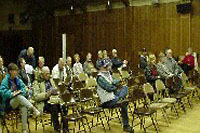 During the Rural Tour 2001, the HUD Team participated in an Economic Development Workshop and Town Hall meeting in Hawthorne involving Mineral County Commissioners and the Mineral County Development Authority. Several economic development projects adopted by County officials were discussed. HUD staff helped community officials develop plans for a downtown revitalization area and industrial park, and in coordination with the Economic Development Authority and the Nevada Environmental Protection Agency, develop a local Brownfields development in Hawthorne, Nevada.
The assistance provided by Northern Nevada's Community Builders and CPD's Economic Specialist during Rural Tour 2001 is expected to contribute to projects and initiatives over the next two years. These include expansion of the Great Basin's community outreach programs in Winnemucca, a transitional housing program in Elko, Nevada; Youthbuild programs at the Pyramid Lake Indian Reservation and Gardnerville, and a major rural economic initiative in Ely, Nevada involving a partnership with the Economic Development Administration and possible application of HUD's Section 108 program.
A follow-up trip to the rural tour is being planned in the near future.