To underscore Kansas City, Missouri's commitment to protect mortgage consumers from predatory lending practices, Mayor Kay Barnes created a "Task Force on Unscrupulous Lending" that included representatives from virtually every segment of the local housing industry, including the Kansas City HUD Office.
| | |
| --- | --- |
| | Donovan Mouton, the Mayor's Neighborhood Advocate, speaks about the problems of predatory lending as members of the Task Force on Unscrupulous Lending gather around. |
| | |
| --- | --- |
| The goal of the task force was to develop a definition of unscrupulous lending practices that would be recognized citywide. Kansas City HUD staffers Robbie Herndon, Jackie Tomlin, Gayle Bohling and Ursula McLendon became active participants, helping draft the guiding principles that would become a part of the partnership agreement. | |
| | Kansas City HUD Office FHEO HUB Director Robbie Herndon with Donovan Mouton from the Mayor's office. |
Members of Mayor Barnes' task force signed the agreement earlier this year, including 16 representatives from housing agencies, lending and Realtor associations, the Association of Professional Mortgage Women, consumer advocacy groups, the faith-based community, the local Home Builders Association and HUD.
The City adopted the following guiding principles:

All consumers should have the right to equal access to mortgage credit.
Consumers should be provided with the lowest cost mortgage for which they can qualify.
Consumers should be told the true cost of a mortgage.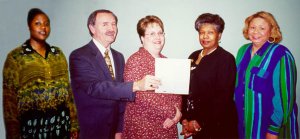 HUD participants in the Mayor's Task Force on Unscrupulous Lending: Community Builder Ursula McLendon; Acting Great Plains Secretary's Representative Stan Quy (holding a copy of the Partnership Agreement created by the task force); Associate Counsel Gayle Bohling; KC FHEO HUB Director Robbie Herndon; and FHEO Intake/Assessment Branch Chief, Jacqueline Tomlin.