The people of southern Colorado along the Lower Arkansas Valley and in the San Luis Valley are proud of their heritage and of their history. They are an independent people with a pioneering spirit. But the Valleys and their residents were generally underserved: over 52 percent are Hispanic, wages and incomes are the lowest in the State, and the existing housing stock is considerably aged and in need of repair.
Colorado HUD's Vic Crain and Nancy Stutz began regular visits to towns in the Valleys, including Antonito, Center, Del Norte, Kiowa, Springfield, and Las Animas, and the lament from lenders had a familiar refrain. There was a critical need for financing vehicles to remodel, update, and make houses more energy efficient - they had a problem, but fortunately HUD had a product and staff ready to work with professionals in these areas.
Earlier this year, the first of three roundtable discussions was held at the Iron Horse Restaurant in Walsenburg, thanks to the coordination of the first National Bank of Walsenburg, Huerfano County Commissioners, Huerfano County Economic Development, and the City of Walsenburg. A second roundtable followed a week later at the Cow Palace Hotel in Lamar, put together by the Southeast Colorado Economic Development, Inc.; and Adams State College (ASC) was the site for the May 1, 2001 roundtable coordinated by the San Luis Valley Development Resource Group and the Small Business Development Center, ASC.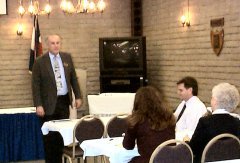 Ron Collins with HUD's Denver Homeownership Center explains 203(k) mortgages as part of Colorado HUD's outreach to smaller communities in the Lower Arkansas and San Luis Valleys.
A HUD team consisting of Ron Collins, Senior Housing Specialist in the Denver Homeownership Center and Colorado HUD's Crain, Stutz, and Lynn Swanson held roundtable discussions with over 50 local lenders, contractors, realtors, appraisers, government officials, and other stakeholders. They explained the 203(k) rehabilitation loan and energy efficient mortgage programs and discussed the use of these programs to increase homeownership and improve housing conditions. The participants had a great deal of interest and asked the Colorado HUD team about program success in rural areas, program guidelines, profitability, servicing obligations, use of consultants and their responsibilities, and exactly how the programs could be used.
As a result of these pro-active roundtables, a number of contractors have submitted applications to become HUD-approved consultants and inspectors. In May, the Denver HOC approved one of them, Kip D. Walker of Alamosa as a consultant and inspector. Walker primarily serves the San Luis Valley, which is comprised of the six counties of Alamosa, Conejos, Costilla, Mineral, Rio Grande, and Saguache, and the partnership has already produced results in Costilla County. HUD representatives also introduced Fair Lending Best Practice Agreements and Homeownership Outreach and Opportunity Agreements as a way to actively partner with HUD in reaching shared goals.