Would you give $5 or $10 if you knew it would be used wisely to help end hunger and homelessness? Would you give $20 if you knew it would be used, by the charity of your choice, to make this a better nation or make a difference in the world? Thousands of men and women at HUD have hearts of gold - whether they know it or not - because they've made a gift, large or small, to make a difference through the Combined Federal Campaign.
Can you find just a few extra dollars in your wallet or purse, and make a gift, make a difference? Time is short and the needs are great; you can show your heart of gold - but the CFC deadline is Friday, December 7th.
Many HUD offices have given generously: Public Affairs still leads the list (254% of goal), followed by OFHEO (245%), ODOC (208%), and PD&R (170%). With two days to go, 12 of 22 HUD offices participating in the 2001 National Capital area CFC campaign - just over half - have met or exceeded their goals. If every office meets their goal, that means more food for food banks; safety for abused children; compassion and comfort for the dying; emergency help following disasters; care and shelter for unwanted animals; advances in medical research and much more.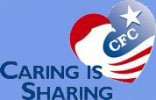 Congratulations to the HUD field offices making a difference, in particular the 24 that have met 100 % or more of their goal: Tulsa , San Antonio, Columbia (SC), Greensboro, Providence, Salt Lake City, Memphis, and Birmingham (100 to 109%), Shreveport, Fort Worth, Seattle, Omaha, Denver, Sioux Falls (SD), and Grand Rapids (110 to 118%), Portland and Pittsburgh (126%), Philadelphia, Spokane, Oklahoma City, and Little Rock (130 to 135%), New Orleans (141%), Anchorage (147%), and Miami (148%)!
Payroll deduction is the choice of most HUD employees to make a contribution - a little every pay period makes a generous gift over the year, and it may be tax-deductible. Whatever your gift, the CFC offers federal employees a way to make a contribution to the good of society - while using their own values to direct their gifts to the charities of their choice.
Secretary Martinez said recently: "Time and time again we've experienced our country's great generosity when fellow Americans are in need - and this is a perfect time to show our support for local charities and community caretakers…." Please give generously, because through the CFC, Caring is Sharing.
The annual Toys for Tots drive - conducted by the U.S. Marine Corps - has relied on the generosity of HUD employees to supply holiday gifts for thousands of needy children in the District of Columbia, Northern Virginia and suburban Maryland. This year, HUD is proud to participate in the drive beginning today, December 6th, through the 20th. Headquarters employees who would like to share the joys and toys of the season should bring new, unwrapped gifts - for toddlers to teenagers - and place them in collection boxes in the North and South lobbies.
Many HUD field offices also take part in local Toys for Tots drives, and can find the names and contact numbers of 370 local coordinators across the nation through the Toys for Tots web site (www.toysfortots.org/2001/Map.html).
This year, one of the goals of the Toys for Tots drive is to deliver a message of hope to the children whose lives have been changed forever by the September 11, 2001 terrorist attacks in New York City and Washington, DC, including


the children of New York City, Washington, DC, and throughout the nation who lost a parent in the World Trade Center, in the Pentagon or on board the four airplanes;
the children of the rescue and recovery forces who lost a parent; and
the children of the families in which the breadwinner lost his/her job because of the economic downturn resulting from this tragedy.
Over the past 53 years, the Marines have distributed over 272,000,000 toys to 133,000,000 needy children throughout the nation.