Secretary Martinez: We wanted to take this opportunity to send wishes for a joyous holiday season and a Happy New Year to you and everyone in HUD's extended family. Each December, many Americans take time to reflect on the year gone by and start to look forward to the promise and challenges of the new year ahead. That reflection will be especially meaningful this year: we have experienced a very difficult moment in our history. Yet today we are stronger in spirit and more united as a nation than we were just one year ago.
However Americans celebrate the holiday season, the blessings of family and country are never far from our thoughts. As we count our many blessings, we should keep America's servicemen and women in our prayers. We live in a nation where our military forces willingly put their lives at risk - many of them now stationed thousands of miles from home - because they understand that the freedom and liberty we enjoy are at the heart of a better, safer world.
I want you to know that great things are in store for HUD, and we can look forward to the New Year with anticipation and excitement. So while we contemplate the work ahead to make this a better nation for all, please be safe in your holiday travels and be generous with your hugs and handshakes. As you share the spirit of the season, it is particularly important to recognize that in this nation, which is home to people of so many faiths, all Americans share the same wish - lasting peace on Earth. Happy Holidays!
Deputy Secretary Jackson: Secretary Martinez and I are proud of the HUD family and what we have accomplished, working together, in just the past year. Millions of Americans across the nation are able to celebrate the holidays and enjoy their lives in ways that would have been impossible without the helping hand of hard-working, dedicated HUD employees. Thank you for your compassion and commitment. Happy Holidays!
Too often, HUD staff don't get to see the results of their hard work and commitment to HUD's mission. The Iowa State HUD Office monitors, reviews, explains, promotes, advises and educates, but this holiday season it had the opportunity to see first hand what HUD programs - and individual acts of kindness - can mean for low-income families.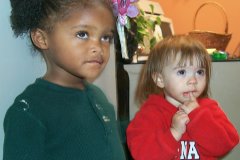 These two little girls' apprehension turned to glee once they came to know the Iowa HUD holiday helpers
Iowa HUD staff "adopted" two local families for Christmas with the help of Trinity United Methodist Church, a neighborhood church in the Des Moines Enterprise Community which has a Children and Family Urban Ministries; and the OSACS women's enrichment center, which helps low-income women bridge the gap from public support to self-sufficiency - a significant goal for the Department. Each family included a single mom and three children. Adopting a family meant committing to give at least one toy and one article of clothing to each child. While nothing was required for the moms, a gift certificate for an area grocery store was suggested. The HUD staff hoped they could do better than that.
Field Policy Management Staffers Kathy Winter and Cindy Jenkins enlisted other "Iowa HUD Holiday Helpers" through a notice that gave the names, ages, sizes, and wish lists for the families. Within a few days, many others had joined the cause and clothing and toys were collected for several of the children…and by the time the office finished their drive, every child had at least two outfits and a very nice selection of toys. And not only did the mothers in the "adopted" families receive a grocery store gift certificate for more than $20, they also received a gift certificate for $50 a local department store. While they asked for nothing, both mothers also received a number of other presents, one of which was an electric blanket.
| | |
| --- | --- |
| | |
| Holiday elves R. Steve Sandegren and Janet Hetherington pack gifts in Christmas containers for the families. "Adopting" two families and their children added a happy mission for the office at the holidays. | OSACS's Bonita Heard-Harris and Virgene Harris get into the holiday spirit with HUD Helpers Kathy Winter and R. Steven Sandegren as they bring a holiday basket from HUD to the OSACS Women Shelter |
OSACS supports women and their families by providing a variety of services including parenting, help getting a GED, learning English as a Second Language, computer classes, and daycare for the children. Recovery Village aids recovering alcohol and drug dependent women.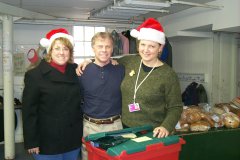 HUD elves Cindy Jenkins and Kathy Winter present a holiday basket to Pastor Dennis Coon of Trinity United Methodist Church for the Annual Christmas Celebration/ Adopt-A-Family Program. A time for the children and families of the near north side of Des Moines to celebrate, this neighborhood tradition is sponsored by the Children and Family Urban Ministries and is a legacy of Trinity United Methodist. At the party, the children of the community celebrate Christmas by acting out the nativity story, singing carols and sharing in Christmas traditions - which the HUD staff in part helped make possible this year. This wasn't the Des Moines HUD office's first volunteer effort for OSACS: in the Autumn they helped stock the women's center's critical day-to day needs and clothes closet.
In Des Moines and throughout the state, HUD and its programs are important to the lives of many low-income families who are working hard to help themselves. The Iowa HUD family's generous support for these women and children not only helped make it a happier holiday for two families trying to become self-sufficient, it also gave the employees a renewed sense of pride in HUD's basic mission - and the sense of well-being that only comes from personal, voluntary acts of kindness.