Early last month, HUD's Tucson Office helped celebrate another milestone in Arizona's Section 8 Homeownership Program when a former voucher recipient moved into her first home - this time into a newly constructed home.
Barry Norman, Yuma County Housing Department, Director, Ms. Rosalva Rodriguez, new homeowner, her daughter Diana Garcia, and Teresa Sanchez, Resident Coordinator.
The event was made possible through a partnership that included the Yuma County Housing Department, Bank One, and the housing counseling agency Campesinos Sin Fronteras (Farm Workers Without Borders). But the new aspect of low-income homeownership was Rosalva Rodriguez, a former Section 8 rental voucher recipient and a HUD Family Self Sufficiency Program (FSS) participant, moving into a newly constructed home in San Luis, Arizona. Given the flexibility of Section 8 homeownership, HUD's FSS Program is an ideal vehicle to help families using Section 8 vouchers obtain employment, and gain economic independence and self-sufficiency. Many families have achieved stable, well-paid employment as a result of their participation in the FSS program, making it possible for them to become homeowners.
Mrs. Rodriguez is the mother of three girls (Melissa Garcia, 11 years old; Ana Garcia, 8; and Diana Garcia, 4). She received a Certificate of Congratulations from HUD that officially recognizes her as the recipient of Arizona's first newly constructed home under the Section 8 Homeownership Program. Previously, the City of Yuma Housing Authority had scored another historic first by being the first housing authority in Arizona to provide a home under the Section 8 Homeownership Program. On September 29, 2002, Ms. Martha Bouzanquet, a Hispanic female head of household and FSS Program participant, became the first Section 8 homeowner in the state of Arizona.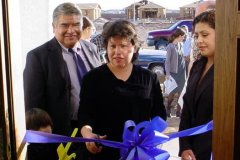 Barry Norman, Director of the Yuma County Housing Department, noted that Ms. Rodriguez has joined two other families in Arizona who have taken the important step toward homeownership through the housing authorities of the cities of Yuma and Mesa with the assistance of HUD, Bank One, Fannie Mae, and two local housing counseling agencies, Housing for Mesa and Housing America. Two other important partners, the Arizona Department of Housing and the National Bank of Arizona, provided closing costs and down payment assistance.
Currently, at least two other housing authorities are implementing the program in Arizona, including the City of Mesa and Nogales housing authorities. The City of Mesa Housing Authority receives credit for assisting a second low-income Arizona family own a home under the Section 8 Homeownership Program.
The City of Yuma Housing Authority, echoing the sentiments of the other housing authorities now implementing the Section 8 Homeownership Program in Arizona, praised HUD for its leadership, coordination, encouragement, and support in helping them to successfully start this important new housing program in their communities. These "pioneer" housing authorities serve substantially large minority populations and three of them are located in border communities that serve colonia residents, including hundreds of farm workers and their families.