Staff from the Des Moines HUD Office recently conducted a Fair Housing training session for the 5th grade class at Edmunds Academy of Fine Arts. Edmunds is a magnet school located in the heart of the Des Moines Enterprise community. Edmunds offers a creative and unique learning environment for kindergarten through fifth grade children, by combining the fine arts within the curriculum.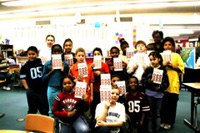 Ms. Hill with her 5th grade class at Edmunds Academy of Fine Arts.
Ms. Hill, the 5th grade teacher at Edmunds, said her students have been working on architectural design and designing their dream homes. She felt that the presentation gave her students more to consider when designing their homes and a better understanding of what a person with disabilities would need in their home.
The HUD staff covered the establishment of the Fair Housing Act, the laws and whom they protect. They also discussed the complainants and the respondents in a fair housing case, and spent the last portion of their day on case scenarios and questions and answers.
At the end of the presentation, students were asked to write one paragraph and draw a picture telling what fair housing means to them. Several pictures have been displayed in the Des Moines HUD office. Students received a fair housing brochure to take home to their families.