Earlier this month, members of the Buddha Light Internal Association and Suechen Smith, a native of Taiwan and long-time member of the Tampa HUD Office staff, undertook a special outreach to the Asian American community in Orlando. As part of a Buddha's Birthday Celebration, HUD and community leaders discussed the many ways HUD can help immigrants, new citizens, and other minority members - with an emphasis on HUD opportunities for homeownership.
Held at the West Ridge Middle School, the event had a cross-section of participants ranging from Asians, Hispanics, African-Americans, Indians, and American and Europeans. The Honorable, Wu Shou Kai (Samuel Wu), Secretary of Taipei Economic Culture stationed in Miami, was the keynote speaker.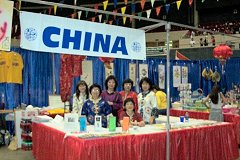 Suechen Smith (left), along with the president of Suncoast Asian Chinese Association, the Editor of the Chinese News of Southeast of United States, and members of the committee.
There are more than 270,000 Asian Americans in the State of Florida and 58,000 live in the Tampa Bay Area. The local HUD office's Asian-American friends include Chinese, Korean, Philippine, Taiwanese, Thai and Vietnamese. Just a few weeks prior to the Orlando event, Suechen represented HUD at 28th International Folk Fair held in St. Petersburg, Florida. HUD staff provided and presented First Time Homeownership materials and answered questions regarding HUD programs during the event. More than 20,000 attended the five-day event.