More than 6,000 Houston-area prospective homeowners recently learned the "ins and outs" of buying their first home at The American Dream Homeownership Fair. The fair, conducted as part of the "With Ownership Wealth" initiative of the Congressional Black Caucus Foundation, resulted from a partnership organized by local Congresswoman Sheila Jackson Lee.
Joining in the partnership with lenders, realtors, builders, nonprofits, housing counseling agencies, media outlets were the Houston Real Estate Association, Houston Area Urban League, Houston Rockets basketball team, Houston Texans football team, City of Houston, Harris County, Fannie Mae and HUD's Houston Office.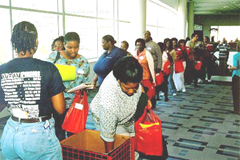 The first 1,500 families attending the fair were given keys for a chance at receiving $5,000 in downpayment and closing cost assistance through the City of Houston.
Prospective homeowners began lining-up outside of Houston's Reliant Center the evening before the event, with the line of early arrivals stretching for a distance of several city blocks. The first 1,500 families attending the event were given special keys. Fifty lucky keyholders were eligible for $5,000 in downpayment and closing cost assistance from the City of Houston when their keys opened a magic treasure chest. Other door prizes and free items were available along with a wealth of information for potential new homeowners.
Throughout the day fair-goers attended filled-to-capacity workshops on downpayment and closing cost assistance programs, financial literacy for young people, credit problems and credit solutions, the homebuying process and avoiding foreclosure. Some local HUD staff served as trainers for the workshops, while other HUD staff manned the Department's exhibit booth were they passed out information on HUD programs and answered questions about the homebuying process and homebuyer assistance programs.
| | |
| --- | --- |
| | |
| With arms outstretched, Congresswoman Sheila Jackson Lee cheers as Deputy Regional Director Don Babers tells the crowd of President Bush's commitment to increase minority homeownership by 5.5 million families by the end of the decade. | Thousands of people visited HUD's exhibit booth during the event. Carolyn Greer, Christina Lewis and Debbie Reynolds (left to right) distributed information and answered questions for potential homebuyers. |