Widely reported pronouncements that some 50 percent of all Department employees can retire within the next few years has prompted the Omaha Field Office to launch "succession planning" training for its employees.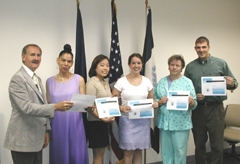 Field Office Director Stan Quy, far left, organized divisional briefings for new employees to expose them to the entire range of HUD's activities. For its efforts, the Omaha Field Office has received an Exemplary Practice Award from the Quality Management Review Team. Also shown, from left to right, are Kitty Amaya, equal opportunity specialist; Wendy Sasaki, public housing program analyst; Lauren Shafenberg, community, planning and development student trainee; Barb Koehn, community planning and development representative; and Ben Osborn, program analyst.
Succession planning - the passing of the baton from a veteran to less experienced staff - is a key consideration as the Department determines how to meet its mission in the coming years. Ideally, old-timers pass-on their knowledge, experience and organizational memory to new guys and gals, who bring to the table creativity, fresh ideas and enthusiasm.
With 12 new staff and 4 new career track employees - a third of the staff - the Omaha Field Office wants to ensure that there is deliberate, quality succession planning during the next several years.
New staffers have received 12 training/program briefing opportunities and mentoring as they complete rotational assignments in other programs. All team members have received teamwork building assignments, including participating in developing a management plan. To formalize the process, each new employee has received an Individual Development Plan, which details the formal and informal training they will receive.
And the efforts are paying off. Recently, five of the new staff briefed other employees and a visiting Quality Management Review Team on the particulars of the Department's Strategic Plan. For their efforts they received a Certificate of Appreciation by Field Office Director Stan Quy. During the remainder of the fiscal year, other new staffers will make presentations on some of PD&R's recently released publications.
Says Chief Counsel Deb McKeone: "The interns and the new employees are bringing fresh energy to our whole office, not just the divisions in which they are placed." She also says that the new employee that she's mentoring, Ben Osborn, challenges her professionally.
In return, Osborn says he's excited to be a part of the Department's future, and that succession planning has added to his knowledge of HUD's history, mission and goals, and has greatly increased his job satisfaction. He also credits his supervisor, Pat McCauley, for encouraging him to attend brown bag lunches and training broadcasts, to volunteer for inter-office committees and to explore other division assignments.
Similarly, other managers who have embraced the Intern Program become deeply involved in their intern's professional development and report they see "an invigorated" workforce.