Though the sun has been baking much of the Plains this summer, Ed and Kay Trottingwolf of Bartlesville, Oklahoma, are keeping cool in the living room of their new home. The Trottingwolfs are among the first participants in a new housing program administered by the Housing Authority of the Cherokee Nation.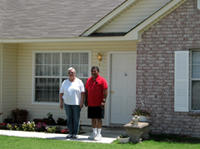 "The Lord seems to give us everything we need," says new homeowners Ed and Kay Trottingwolf. Ed has recently undergone a triple bypass operation and overcome a brain aneurysm.
The Trottingwolfs applied for housing assistance about a year ago through the HACN, after living for a number of years in a one-bedroom house near Bartlesville, located some 50 miles from Tulsa in northeast part of the state.
And earlier this month the couple moved into their new two-bedroom home built for them by the HACN with funding from the Cherokee Nation Title VI Loan Guarantee, and approved by HUD.
"We never thought we would get our home so soon," says Ed, who remembers as a boy watching workers cut, haul and place logs for the cabin in which he was raised.
The HACN program is for members of the Cherokee Nation and gives preference to those who are handicapped or disabled. Also, there are income limitations for applicants. The loans carry a 4 percent interest rate for 30 years with zero down and no out-of-pocket expenses or closing costs. The mortgage payment includes the home, land, taxes and insurance. Also, the home must be the primary residence.
The Trottingwolfs, who met playing softball, have five grown children and nine grandchildren. Ed owns Trottingwolf Sign Shop, and says he's already painted a custom mailbox for their new home. And when he's not working in the shop, Ed and his children follow their passions as gospel singers as members of The Trottingwolf Singers.
"I just let the Lord take care of us," Ed says, "and He seems to give us everything we need."