After 41 years living in public housing, Ethel Coleman's lifelong dream to own a home has finally come true.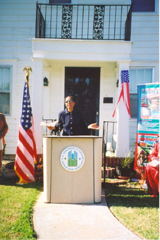 As the first participant in the local housing authority's Section 8 Homeownership Program, Mrs. Coleman realized her life-long dream of owning a home.
Mrs. Coleman, a day care teacher for the Salvation Army Day Care Center in Kansas City, is using her Section 8 Housing Choice Voucher to pay the monthly mortgage payment. She also qualified for the City's Community Housing Investment Program, an 80/20 program providing downpayment assistance and closing costs for residents who qualify. The Kansas City, Kansas Housing Authority is the first public housing authority in the Greater Kansas City area to implement a Section 8 Homeownership Program. Mrs. Coleman is the first public housing resident to participate.
During the homeownership celebration, Mrs. Coleman's jubilation was contagious. Her words of gratitude touched the hearts of all those attending the ceremony. Mrs. Coleman is especially proud of her new home because of its historical and sentimental importance to the neighborhood.
The house, called "Haley House," was previously owned by Georgia Haley, cousin to author Alex Haley. Mr. Haley visited the home throughout his childhood and the stories told and remembered from these visits were the basis for his book, Roots. Mrs. Coleman plans to one day write a book too, and hopes that living in this home will inspire her to do just that.
| | |
| --- | --- |
| | |
| Regional Director Houston is joined by Assistant Secretary Liu in front of Mrs. Coleman's new home, "Haley House," a charming two-story house that is well-known in the community due to its historical significance and sentimental value. Roots author Alex Haley visited this family home throughout his childhood and the stories told and remembered were the basis for his book Roots. | Assistant Secretary Liu, Regional Director Houston, Mayor Marinovich and Kansas City, Kansas Housing Authority Director Tom Stibal present Mrs. Coleman with the American Dream Key to homeownership and a welcome mat. |