As the natural transition of life moved forward, it was time for Nick Seamonds, 24, to move from his boyhood home and into the world. Nothing unusual in that, except Nick, born as a medically fragile baby, still has very complicated health care needs.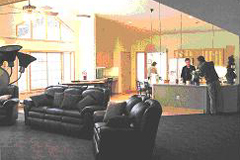 A track lift system on the ceiling runs throughout the home and enables caregivers to move the residents throughout the home.

The home is situated in a beautiful tree-lined neighborhood of Webster City. The home was made possible in-part through a HUD 811 - Supportive Housing for Persons with Disabilities grant, and houses five residents and various caregivers.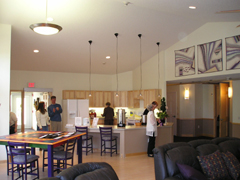 The large open areas make the home fully accessible and is designed to accommodate large motorized wheelchairs with automatic doors at the entries, the lift system and many other special adaptations for safety and accessibility. Along with the accommodations, the home is very cheerful and pleasant with the beautiful colors and all the natural daylight.
Maureen and Don Seamonds, Nick's parents, have always understood they needed to find a place that could meet Nick's needs, and as parents, would one day have to let go of him. Despite the huge obstacles, they vowed to make their son's life as normal as possible.
As they looked for a place for Nick to live near their home in Webster City, Iowa, they knew their son did not fit the usual mold. He did not belong in typical nursing homes and institutions, and the few places for children and teenagers were not able to take on a young adult. Nick simply had too many special needs for the institutions to feel comfortable accepting him.
And Maureen and Don were not the only parents facing the same dilemma. Nick had grown up with four other young people, who because of cerebral palsy, all had very similar needs.
Necessity, it is said, is the mother of invention, and Maureen and Don decided to take a different approach. School experiences had taught them that these young people could be independent given the right circumstances, and the parents wanted to provide a home environment that would serve the needs of these students after they left school.
Maureen and Don began pondering how some land they had recently purchased could fit the needs of their son and his friends.
The "how" became obvious about two years ago when Maureen attended a workshop sponsored by the Des Moines Field Office's Multifamily Housing Program. At the workshop Maureen learned about the Department's provisions for supportive housing for the elderly and people with disabilities. She learned that such housing is innovatively designed and requires specialized equipment that does not fall under HUD's funding guidelines.
Maureen also soon realized she could make the specialized housing become a reality through local fundraisers and other non-profit sponsors.
Maureen selected a grant writer to help secure funding, and Jerry Purdy, an architect who produced designs for specialized rooms and other spaces that met the needs of residents, their families, service providers and the community. A HUD grant enabled Jerry to negotiate a contract and obtain a local general contractor who gave them good value.
One of many innovative features of the home is a "lift system" - a track running throughout the house that enables caregivers to move residents comfortably without risking injury to their own backs.
Other organizations and groups also pitched in to make the home become a reality, including the State of Iowa, which provided funding for supportive services and a change in state law to permit five individuals to live in the same group home instead of the usual maximum of four individuals.
Like many other people, Audrey Rivas, HUD's project manager in Des Moines, was inspired by Maureen Seamonds' efforts to find a home for Nick. "Maureen had a dream and was willing to work for that dream," she says. "There were obstacles like there always are in a project involving many funding venues and partners that may have slowed her down, but she worked through each obstacle and nothing held her back."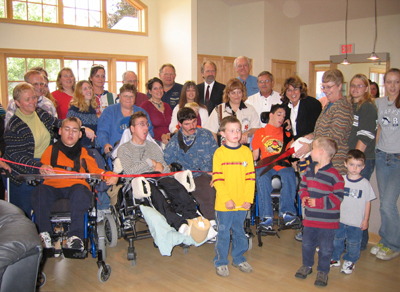 During a recent open house, four of the five residents were present along with family, friends, caregivers and various construction partners.