An old high school's deteriorating classrooms are now offering a new opportunity to some low- to moderate-income residents in Marshall, a town of some 24,000 residents located east of Dallas on the Texas-Louisiana border.
Click on photo to see
enlarged version: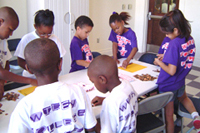 Students are taught basic math skills by using pennies.

Ngoni Chawayipira, a third-year teacher education major, helps a student learn about the structure of cells.
With funding from HUD, Wiley College is transforming classrooms in the formerly black Pemberton High School into a multipurpose community outreach services center. The college has adapted three of the restored classrooms for the specific purpose of serving at-risk youth.
The Technology Place for Kids program enrolled 86 children, ages 6 to 12, from low- to moderate-income families in an intensive six-week, technology-based reading, mathematics and science enrichment program.
Participants received a minimum of 30 hours of hands-on computer instruction. In addition to the hands-on technology instruction, participants were involved in a variety of "inquiry-based" simulated learning activities that integrated basic science and mathematics concepts.
HUD provided 81 percent of the total cost of the renovation work through a Historically Black Colleges and Universities grant (www.oup.org/about/newgrant.html).
These funds, together with funds leveraged from NASA grants and the Department of Education, made it possible for the college to designate a portion of the Community Services Center as a permanent, year-round Technology Place for Kids.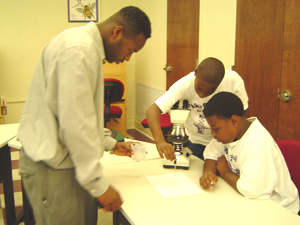 Fifth graders learn how to prepare slides using cheek cell samples and how to use a microscope to analyze samples.