The 16-story Paul Brown Building is one of the oldest buildings in downtown St. Louis. Located in St. Louis's historic Post Office District, the building is on the National Register of Historic Places. It was named for Paul Brown, a St. Louis business leader and principal promoter of the St. Louis World's Fair. With its opening in 1927, the Paul Brown Building served as the home of many restaurants as well as professional and retail businesses.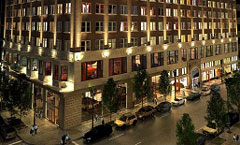 The newly renovated Paul Brown Building in downtown St. Louis. Photo copyright by The Paul Brown Loft Apartments – all rights reserved.
However, the 1960's through 1980's brought decline to the St. Louis downtown area. During this time the Paul Brown Building lost much of its business and steadily declined, becoming vacant during the 1990's. Pyramid Construction bought the building in 2000, and planned a major renovation to restore the building to its former grandeur. Restoration of the building began in December, 2003. Principal funding for this $46 renovation project included a HUD-insured loan of $28.9 million as well as federal historic tax credits and low-income housing tax credits.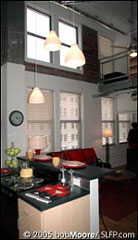 New loft apartment. Photo copyright 2005 courtesy of St. Louis Front Page – all rights reserved.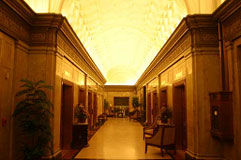 Lobby area of the Paul Brown Building. Photo copyright by The Paul Brown Loft Apartments – all rights reserved.
In June 2005, the building reopened as a residential apartment complex. The building now contains 222 apartments, including 106 subsidized units available for low-to-moderate income people. The renovated building also includes over 20,000 square feet of retail space at street level.