HUD Secretary Alphonso Jackson is convinced that the American Dream—owning your home-- should be an opportunity for all citizens. He has been part of a movement that is making that dream come true one citizen at a time.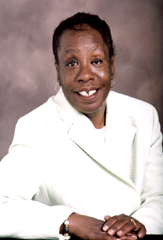 Essie Jackson
Essie Jackson, who works for the contractor that cleans the HUD Headquarters Building in Washington DC, is one of the citizens that recently benefited from the Secretary's commitment to homeownership. Ms. Jackson has lived in her new home since April 2006. Her journey to homeownership, she believes, validates the Secretary's notions that home buying counseling has to be meaningful and not just an exercise in futility.
"It works. Home buying counseling really works," says Ms. Jackson. " It is a hard journey when you are poor and don't know what it takes. I tell people all the time that the home buying counseling works. It really works."
In June 2004, Secretary Jackson arranged homebuying counseling for HUD. The courses were held weekly in the cafeteria and were broadcast via satellite to employees in HUD offices throughout the nation. The courses covered topics such as...
"I saw that HUD was sponsoring home buying workshops in the building and I wanted information. I worked for a contractor and could not go to the sessions at the time they were given. While I was duty on the second floor, a lady who asked if I had attended the workshops approached me. I said that I wanted to but could not. The lady was Ms. Inez Banks-DuBose and she got the information from the workshops and the contact numbers for me, Jackson said.
"I got Home Free USA's number and started going to their Saturday classes. I talked to them. I saw them once a week for six months. They helped with my credit, particularly cleaning up my credit union accounts. Then I was able to talk to a lender who told me how much I qualified for. I got a pre-qualification letter," Ms. Jackson recalled.
"It took me two years looking before I could find something suitable that I could afford. I wanted to stay in DC because I have to rely on public transportation for work, shopping and everything that I do," she added.
Ms. Jackson moved into her new home in April 2006. " It's actually a co-op. It's a two-bedroom on the ground level with lots of light and windows. I do my gardening off my windowsills. I have a $60,000 mortgage-I pay $349 for the mortgage and the condo fees, which include all the utilities and the maintenance is $333 per month. That totals about $680 a month," she chimed excitedly.
She explained that as a renter, she paid $560 monthly for a one-bedroom unit plus utilities that sometimes cost as much as an additional $200." I had no equity and I did not own it. I have a little bit of equity already. Anyway, my house is bigger than the apartment."
Ms. Jackson added, "Homeownership changes how you see property, how you deal with property, and how you think about property. I am so careful with walls and paint. I don't want to get grease or smudges on it; I want everything neat. You know I have to be concernedabout property values."
"I like fixing up my own place and taking my time with it. I don't want to damage my asset," she said.
She says that she sometimes thinks back and now believes that there was a reason she came to work at HUD. (Jackson works for the cleaning and maintenance contractor Melwood.) " My boss and supervisor told me congratulations and that she was going to go to homebuying counseling."
"Sometimes Secretary Jackson goes out to L'Enfant Plaza when we are taking our break. I told him that he had inspired me to try to get my own place. He said go for it. I did and I have it. I even joked that I was going to check my family tree and try to make him a relative. He just smiled and every time I see him he asks me about my place. I am a homeowner," Ms. Jackson said.
She continued, "Some of my coworkers are really happy for me and want to own their places too. They tell me that I am a good example for them and often ask questions and say they are going to try to do this too. Every day I try to encourage someone."
Ms. Jackson noted, "I've lived in DC for a long time. When I used to come to the wharf (fish pier), I came by the HUD building. I never thought I would work there; I never thought that because I worked there I'd be able to buy my own place. But both things are true."
She said she is the first in her family to actually own a home, explaining that her nieces and her sister tried to follow the home counseling program but said it was a lot of hard work and too much to go through. " But I am pushing them to try again because the housing prices in DC are so high. That's why it took me so long to find a condo in my price range. That was the most difficult part.
If it had not been for HUD employees on the second floor like Ms. Banks-DuBose, Ms. Jackie Roundtree, Ms. Jovern James and Brenton Howard, cheering me on, I would have given up," Ms. Jackson said.
"I always liked to work. I love to work now because I see and feel what I am paying for. I used to get rent receipts. Now I have a mortgage book!" Jackson said throwing up her hands.