HUD Assistant Secretary for Fair Housing and Equal Opportunity (FHEO) Kim Kendrick and 14 members of her staff recently took time out of their busy schedules to work on several homes being constructed by DC Habitat for Humanity.
"Let's see. I think I'm supposed to stay inside of the lines!"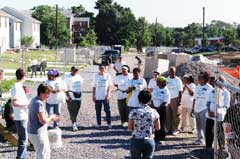 "OK folks, gather around. This isn't as bad as it looks."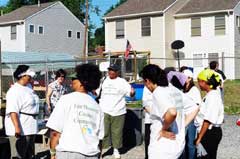 Before beginning work, FHEO volunteers received a safety briefing from Habitat's site coordinator, Nancy Eddy (back turned, wearing jeans).
Located in the Deanwood section of northeast Washington, DC, the 4.3-acre development will consist of 53 homes when it is completed in 2008. Families interested in purchasing one of the homes cannot have incomes more than 200 percent above the local poverty line, and must be willing to put 300 hours of their time into building the home. For most of the families, mortgage payments will be between $300 and $450 a month.
"It was truly a rewarding experience," said Kendrick. "It really made us feel good to know that we were helping to build homes for families who may have considered homeownership an unattainable dream."
The 15 volunteers were divided into three groups, and were assigned tasks that included painting, putting up drywall and trim, and assembling the frames that would later become the homes' walls.
Of the 53 homes that will comprise the development, 21 have been completed. More than 400 volunteers give of their time to work on DC Habitat for Humanity homes each month. A second group of FHEO employees will be volunteering in July.