Maritza Garay was facing life on the street. That was a frightening prospect but she had an even bigger and more worrisome tribulation. She couldn't bare the thought of having her 7-year old daughter Mariana on the streets as well. Mariana suffers from cerebral palsy. An alternative was having an agency care for Mariana but Maritza could not split up her little family. They were searching for a better life and care for a sick child. Mariana was all Maritza had and Maritza was all Mariana had.
Maritza was coming to the end of her allotted stay at a HUD subsidized residence but because of medical expenses she could not afford to get an apartment suitable for a special needs child. But someone at HUD knew an organization that could help. That organization does everything it can to make sure a loving family is not separated and provides care and support for the most vulnerable among us. The organization has a place that thousands in need call home. That place, Maritza was told, is Camillus House. Camillus House is a faith-based nonprofit agency in Miami-Dade, Florida that provides emergency, transitional and permanent services and housing to homeless families. Camillus House is a key member of Miami-Dade's Continuum of Care program and it's 10-year plan to end chronic homelessness.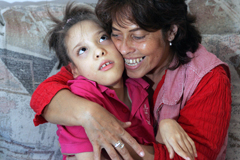 Maritza and Mariana Garay
Maritza found housing at The Camillus House Mother Seton Village in Homestead, Florida. Camillus House also provided daycare services, thus she could work while her daughter was being cared for. That arrangement allowed Maritza to start saving money for the first time in her life. The Camillus House staff even arranged a Disney World trip for Maritza and Mariana through the Make a Wish Foundation, a treat that Maritza never thought her daughter would enjoy. Mariana had a great time!
With Camillus House's assistance, Maritza got a steady job and safe environment. Subsequently, Martiza's caseworker found permanent housing for the Garays outside Camillus House. Mother and daughter moved on and an apartment at Mother Seton Village opened up for another family in need and it was filled immediately for the need is always great.
Camillus House continues helping families like the Garays. Some move on, some cannot. Either way, families can always rely on Camillus House. Camillus House relies on volunteer contributions that complement public sector-HUD included-funding.