HUD helps Iowa Recover
This spring, severe storms and tornadoes pounded Iowa communities, resulting in widespread property destruction. A series of storms unleashed ongoing flooding from several rivers. Flooding in May, June, and July left approximately 100 homes destroyed and 400 homes with major damage. Significant damage to infrastructure occurred, as flooding wiped out businesses and roads, particularly in rural areas. As a result, eighteen Iowa counties were declared federal disaster areas.
Community Builder Stan Quy, a HUD veteran with over 25 years of experience, served as the Department's interface with state and federal officials to help provide immediate assistance to help communities recover and rebuild. Stan was stationed with emergency officials in the Disaster Field Office for roughly one month.
Stan worked with HUD Public Trust Officers and Federal Emergency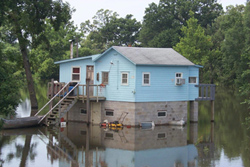 Management Agency (http://www.fema.gov/) officials to help state and municipal leaders buy-out damaged properties in flood plains using HUD Community Development Block Grant allocations and FEMA funds. The buy-out was designed to protect the precious public resources, ensuring that taxpayer dollars were not used to repair any property that would be affected by future floods or storms, creating a recurring expense.
"Many of the property owners are very happy to be bought-out so that they can relocate and reduce the likelihood of experiencing another disaster," said Quy.
As FEMA officials and other members of the disaster response team began their work, HUD played an invaluable advising role. Quy, serving as a conduit for his colleagues back at HUD offices, provided the disaster team with critical data on the populations and communities affected by the flood.
"HUD knows these communities," said Quy. "We provided information to help the disaster team understand how best to plan their strategies for outreach and assistance. We gave them team maps and reports utilizing HUD's 2020 software, providing information such as the ratio of home owners/renters and population clusters. Some of the disaster officials were so impressed with the Community 2020 software that they purchased it for their continuing disaster work."
In the Northeast section of the state, the HUD team helped connect families to housing counseling agencies. This assistance proved to be invaluable, as advisors helped
many owners of damaged homes sort through options presented through various disaster assistance and homeownership programs. Quy also worked with HUD Public Trust the City of Dubuque to reallocate HUD CDBG funding to respond to flood damage.
"During recent Iowa disaster operations, HUD provided personnel to work in the field office and advise the Federal Coordinating Officer on housing and community planning issues," said Curt Musgrave, the FEMA Coordinating Officer for the Iowa Floods. "HUD staff also advised long-term recovery committees and helped disaster victims identify the various housing alternatives. The key to HUD's contribution was the service that was provided by knowledgeable and dedicated personnel."
"Community Builders are about assisting communities," said Community Builder Steve Robins, who responded to the most recent flood disaster in Iowa. "We will be there representing what HUD has to offer, helping people whenever the next federally declared emergency should occur."