Researchers say the key to homebuyer happiness is education; consumers who understand the homebuying process are more likely to end up with a home they're happy with and less likely to be taken in by abusive lenders. With that in mind, the "Homeownership Express" headed into Birmingham, Alabama, to spread the word that when it comes to buying a home, a little knowledge can be a powerful weapon.
At a noon event at Centennial Place, a one-stop homeownership center designed to improve the homeownership rate for low- to moderate-income homebuyers, HUD Assistant Secretary for Congressional and Intergovernmental Relations Steven Nesmith recognized the partnership between Southtrust Mortgage Corporation, Neighborhood Housing Services, and the New Hope Federal Credit Union that created Centennial Place.
Within the past year, Neighborhood Housing Services has provided homeownership education for more than 135 families and assisted 40 of those families in becoming first-time homeowners. They expect to help even more families in the future through the addition of a resource like the Centennial Place homeownership center.
Within the center, families will find all the resources they need to make the transition from renting to owning their own homes, including credit counseling, assistance in identifying the best mortgage program to meet their individual needs, and information about their rights and responsibilities as homebuyers.
Sonia Tate Smith is one of the many proud Birmingham families who have traveled the road to homeownership through the help of housing counseling. Sonia spoke to the crowd and recalled how, just two years ago, she had seen a television commercial about owning a home. That moved her to begin the process that eventually led to homeownership. Her smile spoke volumes about just how much it means to Sonia to have a home of her own.
In his remarks, U.S. Representative Artur Davis echoed sentiments frequently expressed by HUD Secretary Mel Martinez when he called for a bipartisan effort to increase homeownership.
The Birmingham Housing Authority was also recognized during the program for its successful efforts to secure a $28 million HOPE VI grant from HUD. Construction on the first phase of the $100 million project will begin soon. Overall, the project will create 637 townhouses, apartments, and condominiums, with 264 of them specifically designated for public housing residents.
The following individuals took part in the event and were recognized for their efforts to increase homeownership opportunities for Alabama families: Jim Ceyte, President, Alabama Association of Mortgage Brokers; Pastor Greg Clark, New Hope Baptist Church; Craig Nickerson, Vice President, Freddie Mac; Wade King, President and CEO, South Trust Mortgage Corporation; John Johnson, Board Member, Mortgage Bankers Association of America; Damian Gilbert, Chairman, Neighborhood Housing Services; and HUD Regional Director Brian Noyes.
Tomorrow: The bus visits a homeownership fair in Nashville.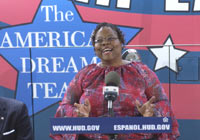 Sonia Tate Smith new home owner in Birmingham. She went through a two-year process to get a new home after seeing a TV commercial for buying a new home.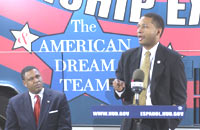 U.S. Congressman Artur Davis speaking at the Birmingham, Alabama Homeownership event at Centennial Place. Centennial Place is a one stop homeownership center to expand minority homeownership in Birmingham. This is the center that helped Sonya Tate Smith get into her new home. Congressman Davis called for a bipartisan effort to increase homeownership.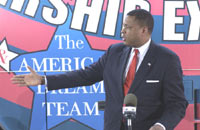 Assistant Secretary Steven Nesmith addresses the "Catch a Dream" Homeownership event at Centennial Place, a one-stop homeownership center to expand minority homeownership in Birmingham.