After leaving the Twin Cities, the "Homeownership Express" headed to the banks of Lake Michigan, carrying the homeownership message into Milwaukee. The visit coincided with the Third Annual Milwaukee Community Development Summit.
To emphasize the crucial role that homeownership plays in strengthening communities, the bus unloaded at the Italian Community Center, the site of the Summit. Throughout the day, folks attending the Summit - along with other interested Milwaukee citizens - learned about the opportunities for homeownership that can be found right in their own community. Housing counselors were also on hand to answers questions.
Radio station WNOV-AM broadcast live from the site of the Express. Whether they joined the discussion by phone or in person, WNOV listeners had the opportunity to ask questions about homeownership and get advice from a panel of experts. The broadcast delivered vital information on such important topics as housing counseling, down payment assistance, flexible mortgage financing, as well as other resources that can help families realize the American Dream of homeownership for themselves.
HUD Assistant Secretary for Community Planning and Development Roy Bernardi delivered the Summit's keynote address at. He is the former mayor of Syracuse, New York, and is uniquely qualified to speak about the steps that communities can take to help meet their housing needs. Assistant Secretary Bernardi talked about the advantages areas such as Milwaukee enjoy because of their status as Renewal Communities - a designation that helps to spur economic growth through special tax incentives that encourage community revitalization efforts.
Joining in the event were Fannie Mae, The Housing Authority of the City of Milwaukee, Housing Resources, Inc. (a HUD-approved counseling agency), IndependenceFirst, Metropolitan Milwaukee Fair Housing Council, North Shore Bank, and Wells Fargo Home Mortgage.
Tomorrow: Homeownership in the heartland as the Express arrives in Iowa.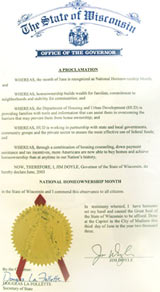 The State of Wisconsin office of the Governor proclaimed June 12, 2003 Homeownership Month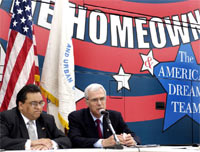 HUD Regional Director Joseph Galvan and Assistant Secretary Roy Bernadi are live on WNOV 860 Am Black Talk Radio in Milwaukee at the Third Annual Summit for a Stronger Milwaukee.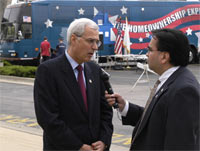 Assistant Secretary Bernardi being interviewed by the local FOX Channel at the Third Annual Summit for a Stronger Milwaukee in Milwaukee during Homeownership Month.