The HUD "Homeownership Express" hits the road to kick off the second annual celebration of National Homeownership Month!
Over the next 27 days, the bus will travel 8,500 miles and make stops in cities from coast to coast as it brings HUD's message of empowering families through homeownership directly into America's communities.
The Homeownership Express is a joint project of HUD and its many partners in the Blueprint for the American Dream Partnership. Secretary Martinez created the Blueprint Partnership last year after President Bush challenged HUD and the housing industry to work together to create 5.5 million new minority homeowners by the end of the decade.
Each stop of the trip will highlight a local homeownership effort that, with the help of HUD and its partners, is successfully moving families into homes of their own. Today's kickoff event in Washington focused on Habitat for Humanity, a HUD partner since 1996. Using funding it receives through HUD's Self-Help Homeownership Opportunity Program - and "sweat equity" contributed by families who help to build the homes in which they'll be living - Habitat has guided 30,000 families in the U.S. into homeownership.
Joining Secretary Martinez at today's send-off were HUD's Assistant Secretaries, Habitat for Humanity International founder and President Millard Fuller, congressional supporters, and Blueprint Partnership representatives. But the biggest applause went to Mary Collins, Marlene Hunter, Penny Williams, Helena Spencer, and their families. Thanks to their own determination, the support of Habitat, and worksite muscle provided by Members of Congress and their staffs, these four families have realized their own "American Dream" of homeownership.
Secretary Martinez emphasized today that homeownership will continue to be a HUD priority because its benefits are so profound. "Homeownership is about more than just finding shelter," he said. "When we empower a family through homeownership, they have new opportunities to build a better quality of life."
Tomorrow: The Homeownership Express visits Pennsylvania.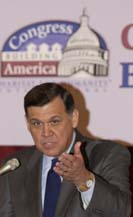 Secretary Martinez speaks about homeownership at the first Homeownership Express event held June 3rd on Capitol Hill in Washington, DC.

Members of Congress, HUD staff, and others pose in front of the Homeownership Express at an event on Capitol Hill in Washington, DC.