You simply can't identify affordable housing by the way it looks!
What does affordable look like?
Affordable housing doesn't look any different than its "market-rate" counterparts. The difference is what renters of homebuyers pay, which is based upon income.
These photos show affordable apartments, condominiums and homes serving low- and modest-income households in King County. Many of these affordable housing projects have won design awards. Others have helped reduce crime and revitalize communities. Some have attracted shops and services to their neighborhoods.
All have one thing in common—they were built, developed or preserved by a nonprofit member of the Housing Development Consortium.
Who needs affordable housing?
Low-income workers & families
Senior citizens
Persons with special needs
Persons with disabilities
Victims of domestic abuse
Men, women and children of all ages
Having a job does not guarantee a family a place to live at an affordable cost. The gap between what people can afford to pay for housing and the cost of housing is widening and is a major cause of homelessness. Minimum-wage workers simply do not earn enough to afford market-rate rents. Many seniors and persons with disabilities live on limited incomes.
Many people who need affordable low-income housing are people you see every day—your child's teacher or childcare worker, the clerk employed at the local store, your best friend's grandmother in a wheelchair or the elderly man on the bus, a police officer, janitor, office worker or waiter.
When people spend too much on housing, they have no money left to cover other basic needs, such as food and health care, or to cope with emergencies.
Affordable housing provides attractive, low-cost housing for people who simply do not earn enough to pay for "market-rate" apartments. It gives people with low and modest incomes safe places to live in our communities.
What is affordable?
The federal government defines "affordable" as housing plus utilities that cost no more than 30 percent of household income. In King County, most affordable housing serves renters who earn less than 60 percent of median income and first-time homeowners who earn less than 80 percent of median income.
According to a recent study, a person needs to earn at least $17.29 per hour to be able to afford a typical two-bedroom "market-rate" apartment in King County. Yet, minimum wage is only $7.16. A minimum wage earner would need to work 100 hours a week in order to afford that apartment. Even two people working at minimum-wage jobs wouldn't earn enough to make that apartment affordable to them.
Who develops it?
Most affordable housing in King County is developed by nonprofit housing developers, the majority of whom belong to HDC.
Before affordable housing is built by nonprofits, community meetings are held so that citizens ask questions and understand that affordable housing actually raises standards and brings economic stability and a diverse vibrancy to neighborhoods. Community members often serve on the boards and advisory committees of the nonprofit organizations that develop and manage these apartments.
Much affordable housing is developed by nonprofits through partnerships with local government, other nonprofit developers, housing authorities, private financial institutions and, occasionally, private developers.
Without enough affordable housing, the whole community suffers
Businesses can't find enough employees who can afford to live near their workplace. It is difficult to recruit and retain employees when there is a shortage of affordable housing.
Children are forced into unstable and uncertain lives. With a stable home, a child is able to focus on learning without worrying about moving during the school year.
Seniors and persons with special needs on fixed incomes may have to sacrifice their basic needs in order to afford rent. Imagine choosing between food and a roof over your head.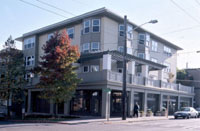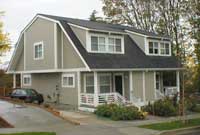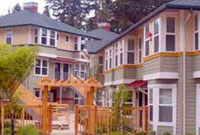 What makes nonprofit housing developers unique?
Nonprofits are:
Formed and directed by boards comprised of community members
Attentive to community needs and sensitive to residents and neighbors