Change a Light Bus Tour
Students and teachers at the Waters Elementary School provided for an inspirational day on the Change a Light Bus Tour. Staff from the EPA and the Midwest Energy Efficiency talked to the entire school about energyefficiency and the important part they play in helping the fight against global warming. EPA presented ENERGY STAR Environmental Leadership awards to Waters teachers for their creativity and commitment to teaching about energy efficiency and the environment.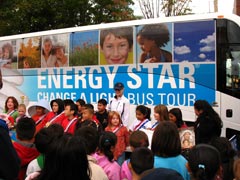 Change a Light Bus Tour

The ceremony included students reading excerpts from their essays on energy efficiency and protecting the environment. Finally, the audience was treated to several songs, including "This Little Light of Mine" replete with modified lyrics about ENERGY STAR CFLs. The audience included representatives of the City of Chicago's school system, EPA's Energy Star Coordinator, the head of the Midwest Energy Efficiency Alliance and the midwest member of HUD's Energy Task Force. All year long Waters elementary students take an active part in energy conservation and green living. They tend to their own organic garden on school grounds and their principal, Titia Brands-Kipp, empowered students to remind their teachers to turn off lights when not in use. These students even carried out their own ENERGY STAR Change a Light pledge contest. They a set goal of 200 pledges and exceeded that goal by over 40 pledges.