North East Community Action Corporation:
Programs That Work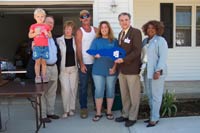 Don Patrick, Executive Director, NECAC presents key to house to one of the new homeowners as HUD Regional Director Macie Houston and USDA representatives share the news.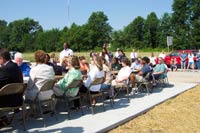 Self-Help Program Participants, families, friends, and local officials attend the June 2006 Homeownership Celebration.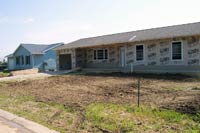 New self-help house.
NECAC is a nonprofit community action agency delivering various social service programs to low-income families, seniors, handicapped, and disadvantaged individuals through grants and contractual agreements with Federal, state, county and local governments, other nonprofits, and private businesses. NECAC serves about 1,000 people each year. The organization has been providing these services for more than 25 years. It serves a 12-county area in northeastern Missouri.
NECAC manages the Self-Help Housing Technical Assistance Grant for USDA Rural Development. Through this program, NECAC, as HUD Section 8 Administrator for the 12 counties, and a HUD-approved housing counseling agency identifies families with Section 8 Housing Choice Vouchers to take part in the Self-Help Housing Program and first-time homebuyers program. Through NECAC's Self-Help, Housing Counseling Program, Section 8 Housing Choice Voucher Program, and the Section 8 Homeownership Program, low-income families in rural Missouri have become first-time homeowners with instant equity in their homes.
Each year, during Homeownership Month, NECAC recognizes families who have successfully completed the Self-Help Homeownership Program. In 2006, NECAC recognized 15 families who were taking part in the program. Of that number, 11 families have completed their homes and are homeowners. The four remaining families are still building, and should have their homes completed by the end of October 2006. Since the program began in 1998, 41 low-income families have benefited from the program and are proud first-time homeowners. According to Carla Potts, NECAC's Deputy Director, the program takes people who never thought they would have a chance of homeownership and makes those dreams come true. At the June 2006 Celebration of New Homeowners, first-time Homebuyer Theresa Hodge cried tears of joy when describing the meaning of a new home to her. Hodge said, "we have our very first home to really call our own. And we have already made memories by building together, playing together, and laughing together in our new home."
Kathy Garner, local manager for Senior Jim Talent's office, said, "what a great event it is when organizations and government agencies come together to provide the real help and support to help people get on their feet and do things on their own." Deputy Director Potts says, "This is a win-win situation. Nothing is free. It's a great use of federal resources, where people come together to build several homes, and then pay for the homes."
Macie Houston, HUD Regional Director, Region VII, praised NECAC for a partnership with HUD that allows people to covert their HUD Section 8 rental-assistance vouchers to home-ownership credits. She said, "NECAC jumped on when the program began several years ago, and now has become one of the best housing choice voucher homeownership programs in the nation--that's NECAC."
Don Patrick, NECAC's Executive Director, has stated often that "NECAC is proud of the partnership it enjoys with USDA Rural Development and HUD in developing homeownership opportunities for low-income families in rural Missouri." Pat Fiala, USDA's Director of its Rural Development Centralized Serving Center notes that Self-Help Housing is one of the most successful federal programs. Nationally, 99 percent of participants stay in their homes until the mortgage is paid and 90 percent never miss a payment. Ms. Fiala told participants at the June 2006 event that they were an inspiration to others on what could be accomplished. She told them, "all of you are committed to making the dream of homeownership a reality, and you're willing to work to make it happen. What a good lesson for all of us to learn from all of you."
According to Ms. Potts, NECAC only gets $212,000 in federal funds to run the self-help housing program. However, by combining other public and private funds with the homebuyer's "sweat equity", the program works! People who once thought the impossible know the possible. They now have a piece of the American dream -- homeownership.