Cardinal Ritter Senior Services Receives $5.3 million
for Elderly Supportive Housing
Cardinal Ritter Senior Services (CRSS) provides services to improve the quality of life for senior adults by promoting and providing health assistance, housing facilities, social services and programs, and volunteer opportunities in St. Louis City and County, as well as in St. Charles, Jefferson, Franklin and Warren Counties. Its mission is to provide an integrated continuum of quality housing, assisted living, healthcare and supportive social services for senior adults throughout the Archdiocese of St. Louis, regardless of race, religion, gender or nationality. Cardinal Ritter is the recipient of several HUD 202, Supportive Housing for the Elderly, grants; the latest being a 2008 202 grant for $5.3 million. CRSS has grown to be the largest agency of catholic charities and has been recognized on local and national levels for its expansive work on behalf of the senior adult. For individuals looking for independent living with a sense of community and privacy CRSS offers 1,307 affordable senior apartment living units. There are four officially licensed assisted living facilities that offer 24 hour supervision, security, three nutritious meals daily, medication storage and distribution, personal care assistance, laundry, housekeeping, transportation, and an emergency call system. Mary, Queen and Mother Center is located on the CRSS Cardinal Carberry Campus and provides skilled nursing care. The Center's goal is to meet residents' health needs along with providing comfort and a feeling of security. The holistic approach to care at the Center is also sensitive to the feelings of families during difficult times. CRSS provides a tremendous service to seniors in the St. Louis area. Its success can be measured by its outstanding reputation, the local and national recognition it has received, and the waiting lists of hopeful seniors.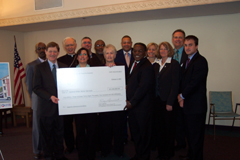 Cardinal Ritter Senior Services CEO Sister Suzanne Wesley, along with all the partners involved in the development of St. William Apartments, Phase II, accepts the ceremonial check for $5.3 million from HUD's Deputy Regional Director Eugene Lipscomb. Cardinal Ritter received the grant under HUD's Supportive Housing for the Elderly (202) program. St. Williams Apartments is scheduled to open in the City of Dardenne Prairie this summer. When both St. Williams and St. Williams, Phase Two are finished and open, they will provide 80 quality, affordable housing units for seniors. The senior adult community is the first in St. Charles County.