HUD Funding is Protecting Thousands of Children
from the Dangers of Lead in St. Louis, MO
According to the Lead Safe St. Louis project, "from 1999-2003 more than 1,500 of the 29,000 St. Louis City children less than age 6 were poisoned by lead each year." To combat this problem in 2003, Mayor Francis G. Slay introduced the Comprehensive Action Plan (http://stlouis.missouri.org/leadsafe/actionplan.htm) to Eliminate Childhood Lead Poisoning in St. Louis by 2010. This plan focuses on prevention of childhood lead poisoning.
In a press release, Senator Kit Bond said "Lead poisoning is a real issue for St. Louis children. It is compromising their health, blocking their potential, and robbing their futures," said Bond. Fortunately, the work of Lead Safe St. Louis is having a dramatic impact. The 2007 Lead Safe St. Louis Annual Report contains some wonderful improvements:
Screening prevalence rate dropped to a record low of 4.4% of children with blood lead levels at or above the CDC level of concern (http://www.cdc.gov/lead/) (more than 30% reduction over 2006's rate)
Met HUD goals in all categories - attained Green Status entire year
Building Division completed a record number of remediation projects (519) and exceeded the HUD benchmark goal by 100 units
While there is still much work to be done, Jerry Wessels with the St. Louis Lead Poisoning Prevention Program said that St. Louis has evolved from being a reactive program into being a preventative program. "We are most proud of the last five years" said Wessels. Five years ago, more than one child out of every seven had lead poisoning. Now, one child in 20 in the City of St. Louis still has a blood lead level at or above the CDC level of concern, according to the 2007 Annual Report. Diligent work by local, state and federal officials has reduced childhood lead poisoning in St. Louis by half in just four years, and recently, this cooperative effort led to grants from the U.S. Department of Housing and Urban Development of nearly $10 million. Five projects in the metro St. Louis area will now receive funds to conduct a wide range of activities from eliminating lead hazards in homes to increasing public awareness about childhood lead poisoning.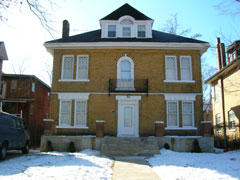 The City of St. Louis will be awarded $4 million in Lead Hazard Reduction Demonstration and $3 million in Lead Hazard Control funds to remove lead in 450 and 350 homes respectively. The funds will also provide for the training and licensing of 30 new lead workers, safe work practices training for 125 individuals, blood lead screening for 3,614 children, and other outreach initiatives to decrease lead poisoning rates. Bond also announced that the County of St. Louis will also be awarded $2,070,680 in Lead Hazard Control federal funds to perform lead hazard control activities in 185 units and that Saint Louis University (SLU) will be awarded $356,303 in federal funds through the Lead Technical Studies (LTS) federal program to test new technologies that measure lead in dust. Please see HUD's press release for more information.