Meet Plomazo, the Invisible Monster: The Newest Health Educator in Salt Lake County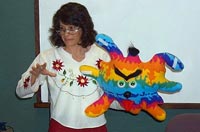 Carmen Chavira Jones, Health Education Assistant demonstrates the bilingual Lead Based paint awareness program.
A Salt Lake Valley Health Department program created entirely in Spanish and featuring elements of Mexican folklore, aims to keep children safe from lead poisoning. The curriculum combines story telling, singing, and playing games. The program increases awareness among the Hispanic community of the sources of lead poisoning, including old paint, some imported candy, and certain ceramic pots made in Mexico. The "Plomazo, the Invisible Monster" program has been introduced in the Salt Lake City School District and area churches. Twenty seven presentations have been made. Over 800 children and 80 adults have been reached with the Plomazo program.
The Plomazo program has been well received by children, parents, and teachers. The education project was funded by the US Conference of Mayor's-Dupont Spotlight on Excellence Award (June 2004-May 2005). The education program supports Salt Lake County's Lead Hazard Control Program which began with a $1,296,000 grant from HUD. So far the County has been able to eradicate lead hazards in over 129 housing units protecting an estimated 250 children.
Content Archived: April 5, 2011