HUD Program and Community Development Corporation
Provide Affordable Homes
In September, Community Development Corporation (CDC) of Utah celebrated the sale of the first property received through HUD's Asset Control Area (ACA) program. CDC of Utah is a non-profit organization located in Salt Lake City and has agreed to purchase 200 homes from HUD over the next two years. The properties have been acquired by HUD as a result of foreclosure and will be purchase by CDC for 50% of the appraised value. After acquiring the properties, CDC will make necessary repairs and improvements before making them available to low and moderated income families. Because of the discount most families will begin homeownership with built-in equity.
The first property in Utah to go to a first time homebuyer via this program is located at 434 Navajo Street on Salt Lake's west side. "This is the greatest day of our lives," exclaimed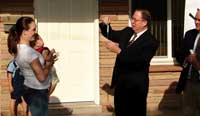 New Homeowner Amber Duran
receives the keys to her house.

Amber Duran, the new homeowner. She and her husband, Justin, have two small children. Justin works full-time at a car wash and never imagined he would be able to buy a quality home for his family. They moved into a substantially rehabilitated home with 30% equity.

"Making the dream of homeownership a reality for working families is our core business," says Darin Brush, CDC Executive Director. "I couldn't be more pleased about our progress so far." So far, CDC has purchased 35 properties from HUD, 24 are under contract, and the balance undergoing rehabilitation. Of the first 9 properties sold, two were sold to teachers, two to police officers, and three to families with disabilities.

For more information visit the Community Development Corporation web site (http://www.slcdc.org)

Content Archived: April 5, 2011