Apartments Honor James E. Kier, Affordable Housing Developer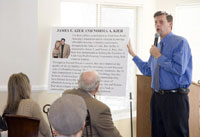 Marion Willey Executive Director of Utah Non Profit speaks at dedication.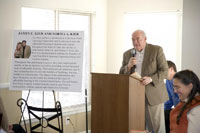 Former Governor of Utah, Norm Bangerter recalls Jim Kier's contributions to affordable housing in Utah.
James E. Kier Apartments
On November 17, 2005, Utah Non Profit Housing Corporation (UNPHC) hosted the dedication of their newest development in honor of one of Utah's great affordable housing developers. The James E. Kier apartments were dedicated in honor of their namesake in recognition of his efforts to build and manage hundreds of affordable housing units in Utah.
The 52-unit apartment complex, which recognizes the contributions James and his wife Norma Kier have made to UNPHC and the community, will provide housing to qualifying low-income seniors.
Jim and Norma Kier established Kier construction in 1961 and built hundreds of multi-family housing units. This provides housing to low income individuals in need of affordable housing. In 2005 Kier Management and Real Estate had a portfolio of properties throughout the intermountain west, including twenty affordable housing developments throughout the Wasatch Front.
Jim Kier was a Life Director for the National Association of Home Builders focusing his efforts in the National Council on Senior's Housing, National Multi-Housing Council, Urban Revitalization and Multi-Family Housing Committees. He also served on the Governor's affordable Housing Committee, the Federal Home Loan Bank Advisory Council, the Key Bank Advisory Board, National Historical Preservation Award for the Eccles Home and most recently served on the Advisory Council for Ascend Alliance and Weber State University. He received two lifetime achievement awards from the affordable Housing Management Association and National Association of Housing and Redevelopment Officials.
The James E. Kier Apartments offer a wide array of services to residents including an exercise room, meeting and activity facilities and on site management. The apartments are located at 260 E. 800 South in Salt Lake City. Persons interested in living at the James E. Kier apartments should contact Utah Non Profit Housing (http://www.utahnonprofithousing.org/).
Content Archived: April 5, 2011