Utah's Third Annual Homeless Summit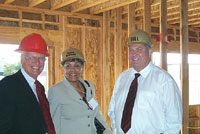 Left to right: M. Dale Ensign, HUD Asst. Secretary for Special Needs, Robyn Raysor, and Bill Nighswonger
Utah held its Third Annual Homeless Conference, October 3 and 4 and it was an outstanding success. Kick-off for the conference was a ground breaking for Grace Mary Manor in South Salt Lake City. The development's 84 studio apartments will serve chronically homeless persons. This permanent housing project is the second of two under construction in the Salt Lake area. Peter Corroon, Mayor of Salt Lake County was the Master of Ceremonies for the event at the Sheraton Hotel.
Conference participants also toured Salt Lake City Housing Authority's Sunrise Metro project. Located in downtown Salt Lake, the project will provide permanent supportive housing to 100 chronically homeless people. Bill Nighswonger, Salt Lake City's Homeless Project Manager, led the tour participants which included HUD's Deputy Assistant Secretary for Special Needs, Robyn Raysor. The units will be completed by March 16, 2007.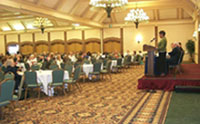 Workshop in progress
The second day of the conference Lieutenant Governor Gary Herbert spoke about the State's progress on meeting the targets of its 10 Year Plan to End Chronic Homelessness. HUD's Deputy Assistant Secretary for Special Needs, Robyn S. Raysor presented the keynote address. She discussed efforts at the federal level to incorporate more local decision making into the Continuum of Care planning process. Sophia Adams, a formerly homeless single mother of four offered her personal story of surviving domestic violence and homelessness. Currently Sophia is enrolled in Salt Lake Community College with plans to eventually earn a Master's in social work.
The last session offered workshops on Discharge Planning, Supportive Services/One Stop Shops, Salt Lake's Pathways pilot project and HMIS (Homeless Management Information System) Reporting. "Every year the conference gets better." "So much is happening, it is amazing!" were among the comments offered by participants as they left the event.
Content Archived: April 11, 2011