Building Affordable Housing for Native Americans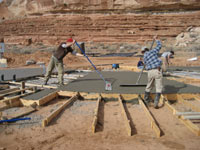 Students constucting the foundation.
Each year, a group of volunteer graduate students from the College of Architecture and Planning, University of Utah, leave the comforts of home for the rural community of Bluff, Utah. They take part in a unique program to design and build housing for Native American families. With assistance from DesignBuild BLUFF, a nonprofit dedicated to building affordable housing for Native Americans, the students design and construct homes for families selected by the Navajo Housing Authority and the Navajo Trust. Funding for the students' most recent project was provided through a Rural Housing and Economic Development Grant obtained by the Community Development Corporation of Utah and passed on to DesignBuild, BLUFF.
Dora and Baxter Benally are a Navajo couple living just off the Navajo Nation Indian Reservation in the Four Corners area of Utah. They were selected to receive a new home specifically designed to accommodate their limited incomes and senior needs.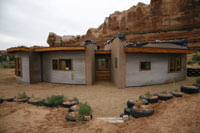 Home designed and built for Navajo family.
Dora works as a housekeeper and caretaker at a local lodge and Baxter is an artist who works at the lodge part-time. The couple worked with the design team to address their needs. In fact, Dora's main request was to have a home with a room to sew clothes for her grandchildren. The Benallys were gracious hosts throughout construction, helping whenever they could and cooking delicious meals for the students.
The family invited student designers/builders to attend the dedication and blessing of their new home. During the celebration, Baxter tearfully thanked the College of Architecture and Planning, the Community Development Corporation of Utah, HUD, and DesignBuildBLUFF for their generosity and perseverance-not only in providing his home, but also for the collaborative commitment to Navajo housing needs in all of Utah.
Content Archived: April 11, 2011