ROSS Grants Awarded to the Housing Authority of Milwaukee and Friends of Housing

Director Galvan presenting a $415,000 check to Milwaukee Housing Authority Executive Director Tony Perez, on the left, and Housing Authority Chairman Willie Hines.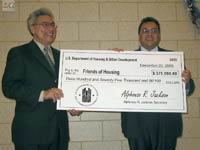 Joseph Galvan, left, presenting a $375,000 check to Armando Gutierrez, Executive Director of Friends of Housing Corporation.
HUD Regional Director Joseph P. Galvan recently announced grants to the Housing Authority of the City of Milwaukee and to Friends of Housing Corporation under the Resident Opportunities and Self Sufficiency (ROSS) Program. Galvan presented ceremonial checks representing the grants at an event held in Milwaukee on December 20, 2005.
HUD granted a total of $415,000 to the Housing Authority -- $350,000 for Homeownership Supportive Services and $65,000 for Family Self Sufficiency Coordinators. The Homeownership Supportive Services grant will be used to offer homebuyer counseling and other supportive services to help public housing residents achieve homeownership. The Family Self Sufficiency grant will be used to help link public housing residents with training opportunities, job placement organizations, and employers.
Friends of Housing, a nonprofit organization that frequently works in collaboration with the Housing Authority, received a $375,000 grant to provide coordination of services for the elderly and persons with disabilities who live in public housing.