The Tennessee State HUD Office celebrated Black History Month by highlighting the achievements of African Americans in public service - including a small-town mayor and members of the US armed forces.
| | |
| --- | --- |
| | The Honorable Mayor Herman Davis, first black mayor of Coopertown (a small, rural and predominately white town northwest of Nashville) and one of only two black mayors in the State of Tennessee, spoke on his campaign experiences and subsequent election success. having served in various public service positions in Chicago and Gary, Mayor Davis said, "I thought I was coming here to retire, but, other plans came up!" Shown here greeting a member of the audience, the Mayor was introduced by one of his constituents, HUD Associate Community Builder Terry Livingston. |
The following week, the Tennessee State Office hosted two special guests: Chief Master Sergeant Harold E. Couch, USAF and Major James M. Conley, USAF-Retired, Tuskegee Airman.
| | |
| --- | --- |
| Sergeant Couch - who holds the highest rank that an enlisted man can attain, similar to a four -star general - provided a historical perspective of the military contributions of African-Americans. He noted that much of American's history is due to the input, support and battlefield activities of its black soldiers. | |
| | CM Sergeant Couch, Major Conley, Sr. CBer Brenda L. Cleaver and CBer Bill Dirl |
| | |
| --- | --- |
| | Major Conley, introduced by his son, MF housing specialist James R. Conley, provided first hand accounts of the experiences of the famed Tuskegee Airmen. Stationed and serving with the Tuskegee Airmen, Major Conley recalled many little known facts about the flying missions and members of the group. He was also a classmate of the distinguished military leader, General Chappie James. |
The observance also included musical presentations by Multi-Family Staff persons Mildred Taylor ("Lift Every Voice") and Joe Cowden ("The Star-Spangled Banner"). A Black History Puzzle was also awarded as a door prize.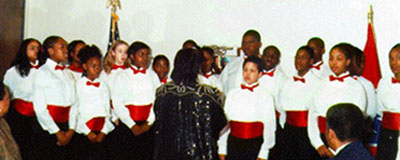 The Buena Vista-Jones Paideia Magnet School Singers - seventh-grade students from the TSO's adopted school - sang stirring renditions of Black spirituals, after which they were treated to pizza!
The final week of February, the Tennessee State Office closed Black History Month by showing the television movie, the "Tuskegee Airmen" starring Lawrence Fishburne and Cuba Gooding, Jr. Popcorn was supplied......a good time for all!
Thinking of a way to give back to the community? HUD headquarters' tutoring program - carried out in partnership with "DC Reads" - needs more HUD volunteers to serve as regular or alternate weekly tutors. HUD's program supports first grade students at Stanton Elementary School in Southeast DC, and seventh to ninth graders at Jefferson Jr. High School in Southwest DC.
At Stanton, HUD tutors work with first graders who need special attention to develop their reading skills. Individual tutors contribute one day each week, Tuesday or Thursday, and spend an hour working with a child. DC Reads provides training on how to help young children develop their reading skills.
At nearby Jefferson Junior High, HUD tutors work with seventh to ninth graders on a variety of studies on Tuesday and Thursday from 12:00 to 1:00.
Today from 11:00 to 2:00 in the cafeteria, learn more about the tutoring program and the schools' requirements, and sign up as a tutor. If you are specifically interested in tutoring at Stanton Elementary, contact Eric Gauff on 202/708-4256, ext. 3376 or by email. If you are interested in serving as a HUD tutor at Jefferson Junior High, please contact Gwen Dickson on 202/708-9112, ext. 3038 or by email.