An estimated 3,000 people visited the annual Greater Philadelphia Homeownership Fair at Philadelphia City Hall's Dilworth Plaza on June 13. The fair featured 35 separate exhibitors and booths staffed by housing counselors, community development corporations, non-profit housing agencies, local banks, mortgage lenders, Habitat for Humanity, homeless providers, City and HUD staff.
The event was the result of a partnership between the City Of Philadelphia and HUD's Pennsylvania State Office, and even provided fairgoers and lunchtime crowds drawn to the scene with entertainment from the very talented Philadelphia Postal Employees' Choir.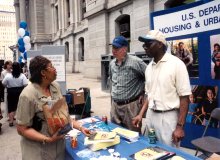 HUD Staff Frank DeVito and Van Williams provide information to a potential homebuyer.
The Homeownership Fair featured a wide variety of information to assist first-time homebuyers to include Philadelphia City homebuying financial incentives and assistance programs, financing options, pre- and post purchase counseling, 203k home improvement loans, Title I Home Improvement Loans, reverse mortgages, and HUD Homes.
The HUD Office's participation at the festival exemplified the office's education initiative and on-going outreach to this under-served population. HUD staff focused primarily on HUD's affordable housing programs, identified as the number priority need among the state and area's Hispanic population.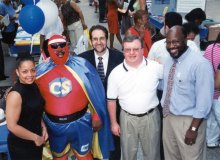 Captain Sewer (in blue and yellow cape, sunglasses and red leotard) poses with Pennsylvania State Office Staff including(left) Ileana Colon, Acting Secretary's Representative Michael Levine, Adam Deveney, and Clarence Elliott.
Visitors had the opportunity to talk to housing professionals about their individual homeownership plans. "Captain Sewer" of the Philadelphia Water department made a special appearance to entertain the kids and provide educational materials on water conservation. To mark the celebration and further emphasize the importance of Homeownership, the Deputy Housing Director Deborah McColloch also presented Acting Secretary's Representative Michael Levine with a mayoral proclamation.