Millions of people benefited from a first-of-its-kind childhood lead hazard campaign when they received mail from the Greater Hartford area. As part of a joint campaign to raise awareness of lead poisoning, all first class mail processed through Hartford in October received a specially-designed postmark bearing HUD's message: Let's Give Every Child A Lead Safe Home.
HUD's Connecticut State Office, the Hartford Health Department and the U.S. Postal Service unveiled the new postmark at a kick-off campaign on October 4 at the Postal Service's Hartford Processing and Distribution Center. The postmark, designed by the Hartford Health Department and adopted by the U.S. Postal Service, was stamped on approximately 500,000 first class cards and letters every day throughout October. During the course of the month-long campaign, millions of pieces of mail bearing the special postmark were delivered throughout the state and the nation.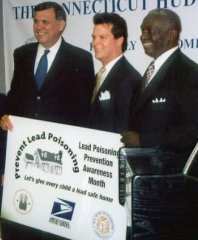 Secretary Martinez recognized the campaign during his visit to Connecticut HUD Office in August: Secretary Martinez; Owen Humphries, Hartford Health Department, and Raymond A. Jordan, Connecticut State Office Coordinator, hold prototype.
Launching this specialty postmark on lead poisoning is a first for the U.S. Postal Service. The postmark may be reused on an annual basis each October. The HUD Connecticut State Office hopes that eventually all post offices throughout the nation will use the postmark to spread HUD's message.
Speaking about the campaign during an August visit to the Hartford Office, Secretary Martinez said: "This is a unique way that we can literally stamp out the threat of lead poisoning to our children. This postmark is one way we can help spread the word that we must protect our children from this preventable disease."

Lead Poisoning Prevention Awareness postmark stamped on representative first class mail
Childhood lead poisoning remains one of the most common and avoidable public health problems today. The Centers for Disease Control and Prevention reports nearly one million American children have elevated blood lead levels. HUD's national survey of lead hazards in housing found 25 million housing units in this country contain lead-based paint hazards. Lead poisoning is known to cause decreased intelligence, learning disabilities, behavior problems, kidney disease and other serious problems.
HUD's Connecticut State Office and the Hartford Health Department have been involved in other awareness initiatives. Since October of 2000, Hartford school health educators have utilized a new lead prevention curriculum to teach second and third grade students about the dangers of lead poisoning and the steps they can take to protect themselves. City sanitation trucks and transit buses now carry lead poisoning awareness messages in both English and Spanish. HUD funded both initiatives.
At the October 4th announcement: Michael Peters, Mayor, City of Hartford; Richard Blumenthal, Attorney General; John Walsh, Board of Governors, U.S. Postal Service; Katherine McCormack, Director of Health, City of Hartford; Owen Humphries, Jr., Coordinator, Childhood Lead Poisoning Prevention and Education Program, City of Hartford, and Raymond A. Jordan, Coordinator, Connecticut State Office.