Housing and Urban Development Secretary Mel Martinez today announced Robert L. Woodson, Jr. will become the Department's new chief of staff, helping to manage more than 9,000 employees and a $30 billion budget. Woodson will also oversee the hundreds of HUD programs designed to increase minority homeownership, create affordable housing opportunities for low-income Americans, support the homeless, elderly, people with disabilities and people living with AIDS, and will continue to place a strong emphasis on community renewal and neighborhood redevelopment
"Rob brings a vast experience in housing and community development and has been a valued member of my senior staff," said Martinez. "He has a tremendous grasp of the issues and challenges facing this Department and possesses the kind of people skills that make him a real asset to the HUD family and the Bush Administration."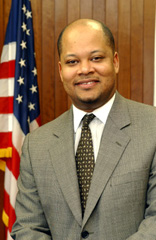 Woodson served as Martinez's Deputy Chief of Staff and replaces Daniel Murphy.
Woodson served as Martinez's Deputy Chief of Staff and replaces Daniel Murphy who is moving to the private sector.
"Throughout the past year, this Agency has made great strides in creating homeownership opportunities, increasing affordable housing and protecting America's homeless, elderly and those with disabilities," said Woodson. "I am looking forward to this new challenge and to pursuing the Secretary's priorities including simplifying the homebuying process, narrowing the gap for minorities to achieve the American Dream of homeownership and continuing to identify solutions to the homeless problem that our country faces."
Prior to coming to HUD, Woodson served as Senior Policy Advisor on housing and community development issues for President Bush's campaign for president in Austin, TX. He was a senior aide to Sen. Kay Bailey Hutchison (R-Texas) on matters of tax law, budget, and housing and community development issues. Woodson also served as Chief of Staff for Rep. Bob Inglis (R-South Carolina) as well as budget analyst for the House Budget Committee.
Woodson worked to help low-income persons achieve economic self-sufficiency as a project director and spokesperson for the National Center for Neighborhood Enterprise, a national organization that helps community- and faith-based groups reduce crime and violence, revitalize low-income neighborhoods and create economic enterprise.
A graduate of the University of Delaware, Woodson's received a B.A. in Sociology with a concentration in urban studies.
HUD is the nation's housing agency committed to increasing minority homeownership, creating affordable housing opportunities for low-income American's, supporting the homeless, elderly, people with disabilities and people living with AIDS, and stimulating economic development and community revitalization across the nation.

In at least one Portland, Oregon neighborhood, service to the community on a rainy day in January will be even more deeply appreciated in July, August and September - when low-income families harvest crops they raise in their new and convenient vegetable gardens.
Thanks to students and staff of Portland Youthbuilders a Martin Luther King, Jr. Day of Service was spent constructing vegetable gardens at St. Johns Woods, a HUD Multifamily Section 8 subsidized project owned by the Housing Authority of Portland. During the often rainy day, more than 40 students, staff, and volunteers created three large plots for resident gardens, setting posts and erected 625 feet of field fencing: a valuable contribution in time and materials that benefits both the gift-giver and the gift's recipients.
| | |
| --- | --- |
| | |
| Youthbuilders' Sam Mason sets a post while Dustin Wake mixes concrete. | The Youthbuilders crew checks the alignment of the fence before setting posts. |
Founded in 1993, Portland Youthbuilders - which received a $500,000 grant through last year's SuperNOFA - serves an average of 100 young men and women each year and builds four units of affordable housing. St. Johns Woods is a 124-unit family Section 8 project which was purchased from a private owner by the Housing Authority of Portland in 1998. The St. Johns Woods Garden Project is directed by Janus Youth Programs, as a way to increase food security for families and provide job training for youth.