With the arrival of the Northern Pacific Railway in the late 19th Century, immigrants from the four corners of the world were attracted to 'Spokan Falls,' and what would one day be part of Washington State, by the thriving timber industry, active fur trade, and the discovery of gold and silver in near-by lands (one day to become Idaho). Today, Spokane, Washington is called the Heart of the Inland Empire and still draws a stream of new settlers. Spokane learned very early that cooperation and partnerships among diverse residents could help the area thrive.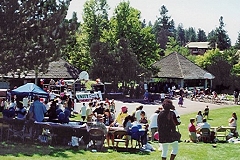 What began eight years ago with a turnout in the hundreds drew over 4,000 local residents this year. More than 80 booths and displays provided information on community services.
Modern day Spokane knows that success in its neighborhoods depends on partnerships among diverse community partners, too. On August 10th, 2002, over 4,000 Spokane-area residents, businesses, community groups and faith-based organizations came together to enjoy the day and take part in the eighth straight "Unity in the Community" event at Spokane's Liberty Park. This year's theme was "Higher Education, the Link to Your Success," but every year is a broad celebration of the city's diversity, cultural traditions, and the people and groups who make a difference in the city. Not only is Unity in the Community an opportunity to learn about different cultures, it's also an opportunity to learn about the wide range of resources available to the city's diverse groups of people and neighborhoods.
Housing partners joined forces to share the word about housing opportunities in the greater Spokane area.
This year, over 80 information booths were available, including a housing partnership assembled by HUD to cover the full spectrum of housing issues of interest to local residents. For the last three years, the Spokane HUD office organized 14 housing partners in the community who joined forces for the event. By joining together, the housing partners could provide a wide variety of information and resources in one place. HUD staff and other partners who staffed the booth provided information on affordable housing opportunities; approved housing counseling agencies; rental assistance; home building and rehabilitation; fair housing; technical assistance for non-profits; down-payment assistance programs; homelessness and emergency resources; and more.
As one attendee said, "It would have taken me a year to find out everything I learned here in one day."