Construction is actively underway for San Jose Mission, a unique addition to the supply of affordable housing in the Tampa, Florida area. Sponsored by Catholic Charities of the Diocese of St. Petersburg, San Jose Mission will mean 96 units of new, affordable rental housing in the rural community of Dover, just east of Tampa.
But the San Jose Mission development will be more than just an affordable residential community. It is being built specifically to provide farm workers in Dover and surrounding East Hillsborough County with clean, safe, affordable permanent housing.
In addition to the affordable residential units, on-site support services will include a Head Start day care program, an adult and continuing education facility, and a health care facility. In addition, HUD recently announced an award of $400,000 to provide for the construction of an on-site community center.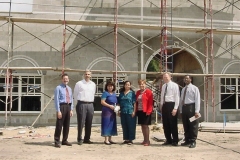 Construction will be completed in early 2003, but the San Jose Mission development would be nothing more than a vision on the drawing board without the hard work and support of many partners. Funds and technical assistance were provided by HUD, the Department of Agriculture, the State of Florida, Hillsborough County, several local banks and the Florida Community Loan Fund. Many of those partners came together for a ceremony at the development, including (above) Arnold Andrews, Executive Director, Catholic Charities - Diocese of St. Petersburg; Ignacio Esteban - Executive Director, Florida Community Loan Fund; Anselma Fernandez, Coordinator, San Jose' Mission Family Learning Center; Margie Melendez, Instructor, Family Learning Center; Karen Jackson Sims, Director, HUD Tampa Field Office; Ken Burke, President, Board of Directors - Catholic Charities Housing; and Vernon Fuller, USDA - Rural Development.