The HUD Office of Inspector General recently recognized the contributions of professionals from four different law enforcement organizations who worked cooperatively with OIG to defeat drug activities at Langston Dwelling Public Housing Complex, a public housing community in Washington, DC.
In addition to HUD OIG, the organizations involved in this multi-year effort were the DC Metropolitan Police Department, the Federal Bureau of Investigation, the Drug Enforcement Administration and the U.S. Attorney's Office.
Specifically recognized were Special Agent Pat Casey (formerly with HUD OIG and now with the Veterans Administration OIG); Special Agents John Adams, Lawrence Alexander and Stephen Carter, all with the FBI; Special Agents Martin Carpenter, Julius Rothstein, Adam Cohen and Paul Quander, all with USAO; and Inspector Joe Sopata, with the DC Police Department.
Back in 1996, DC police were besieged by citizen complaints about narcotics dealing and open-air drug markets at the Langston Terrace development, which is bordered by three high schools, an elementary school and thousands of residences in the Benning section of Northeast DC.
By 2002, the Anti-Drug Task Force had arrested and help convict more than 50 individuals in DC, New York City and Dallas, had seized more than $1 million in U.S. currency and another million in assets, and had confiscated 19 firearms and 30 kilograms of heroin.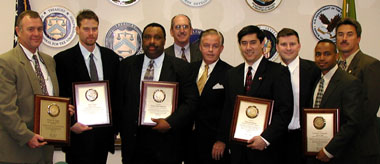 Weighing in against and entrenched and highly organized criminal enterprise, the Anti-Drug Task Force came together to curb drug activity at the Langston housing complex. Pictured from left to right are: Pat Casey, John Adams, Martin Carpenter, Mike Stephens, HUD Inspector General Kenneth Donohue, Julius Rothstein, Adam Cohen, Lawrence Alexander and Joe Sopata. Paul Quander and Stephen Carter were unable to attend the ceremony.