The "B" and the "G" in "CDBG," of course, stands for "block grant." But soon, thanks to a project launched by the Virginia Department of Housing and Community Development, many people may think that "B" and "G" stands for "bluegrass."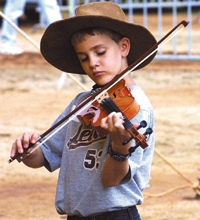 Cameron Faryadi was a participant in this year's Old Time Fiddlers' Convention, which attracted about 40,000 people to each performance. Photo by Brian Funk, The Galax Gazette.
Using $680,000 from the Appalachian Regional Commission and $700,000 in CDBG funds - HUD's Community Development Block Grant program - DHCD is working with communities across southwest Virginia to establish a Virginia Music Heritage Trail.
Intended to celebrate the "sights and sounds" of Appalachian Virginia, the Trail will, says DHCD director Bill Shelton, "attract visitors from throughout the country and beyond and encourage tourism related business that will create local jobs."
When fully blazed, the Virginia Music Heritage Trail - nicknamed The Crooked Role - will wind along U.S. Routes 221, 58, 23, linking 8 counties, 10 towns and 3 cities of southwest Virginia where the banjo, fiddle and bass gave birth to a uniquely American musical form.
Stops on the almost 200 mile trail will include the Carter Family Fold in Scott County, the Blue Ridge Music Center in Grayson County, the Birthplace of Country Music Alliance in Bristol, County Records and the Friday Night Jamboree in Floyd and the Old Time Fiddlers' Convention in Galax. Another noteworthy stop along the trail is the Ralph Stanley Museum in Clintwood, Stanley's birthplace and the beneficiary of a CDBG-funded blight elimination campaign that included the exterior of the Victorian home that will house the Museum. Stanley, along with Bill Monroe, Lester Flatt and Earl Scruggs, is an icon of bluegrass music.
DHCD and its partners view the Virginia Music Heritage Trail as a major economic boost for the area. The Trail "won't just help Clintwood and Dickenson County," Mayor Donald Baker of Clintwood told The Richmond Times-Dispatch. "This trail is going to help all of Southwest Virginia."
Thanks to the Virginia Music Heritage Trail, the land of the "High Lonesome" won't be so lonesome anymore.