Senior citizens with very low incomes living deep in the heart of thoroughbred horse country in Lexington now have another 24 units in which to live, thanks to the recently dedicated Elm Tree Lane Apartments.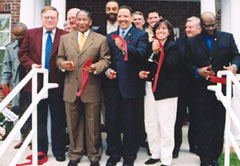 Attending the dedication (in the front row from left to right) were Louisville Field Office Director Ben Cook, Lexington Urban League President Porter Peoples, National Urban League President Marc Morial, Lexington Mayor Teresa Isaac and Metro Council Member George Brown
The apartments are part of an ongoing effort to redevelop the Elm Tree Lane neighborhood of Lexington, an area once in serious decline in housing quality and livability.
Begun in mid-1980, the rebirth of the neighborhood is now complete. New apartments and single-family homes have replaced deterioration and blight, and dispirited citizens are now filled with hope and anticipation of the future.
Residents at the apartments will pay 30 percent of their incomes for rent. The remainder of the rent will be provided by HUD through a rental assistance contract.
The apartments were developed with a $450,000 capital grant from HUD, under the Section 202 Supportive Housing for the Elderly. The project also received $120,000 in HUD HOME Program funds through the Lexington-Fayette Urban County Government.
The development was sponsored by the Fayette County Local Development Corporation, which worked closely with the Louisville Field Office to ensure that the project met all of the required specifications of the grant.