They give their names as J T., Elvis or Cowboy. They live in alleys, under bridges, in barns and on the riverbanks. Many people avoid them on the streets or drive past them as they hold up signs asking for money or food. For much of society, the homeless are out of sight and out of mind. For much of society, the homeless simply don't count.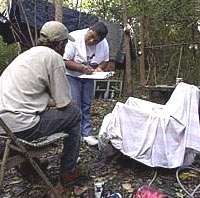 Team member Peggy O'Neal interviews a homeless man in a wooded area


But thanks to Terri Brock and others from HOPE for the Homeless, the local continuum of care, the homeless living in and around the Louisiana cities of Shreveport and Bossier City do count.
Terri, the organization's director, and her colleagues recently hit the streets in search of information for their homeless survey. Twenty years of working in human and social services did not prepare Terri for what she witnessed: individuals who had been beaten with bricks by delinquent youth, men robbed just for their identification and others with disabilities who lacked appropriate medications. "I experienced what could only be termed as an epiphany about the urgency of responding to the lives in crisis of so many chronically homeless," she said.
It is estimated there are 4,500 homeless in the Shreveport-Bossier City area and last year's survey documented more than 1,000 on the streets or in homeless housing during the 24-hour period in which the count was taken.
And why are they homeless? The responses rarely differ from one year to the next. Many acknowledged that substance abuse or mental illness - afflictions that rob a person's strength and will to overcome such challenges as loss of a job, financial debt or a failed relationship - was often the cause.
The data collected during the survey will support HOPE's requests for grant funds and enhance their ability to better target program resources. For these reasons, the survey team went to great lengths to locate and count every homeless individual during the 24-hour survey period. The continuum, with dedicated and caring members, works hard to provide the highest level of services to the homeless because they know everyone counts.