While the New England Patriots and Carolina Panthers were battling it out in Houston, the Northwest Louisiana Food Bank was holding a "Souper" Bowl of its own in Shreveport. Area churches were encouraged to help tackle hunger by sponsoring soup drives on Super Bowl Sunday.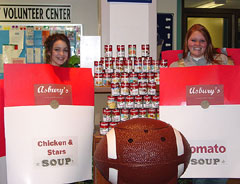 Youth volunteers Caroline Nawas (left) and Jessica Pfanner of Asbury United Methodist Church helped collect 142 pounds of soup
According to Amie Roberts, the Food Bank's funds development director, churches in seven parishes participated in this event. While the final count of cans collected is not complete, the soup keeps pouring in at the Food Bank. Most of the soup will be included in the 1,500 boxes packed and distributed each month, which go to feed elderly residents at HUD multifamily developments in Shreveport and Bossier City.
The Food Bank is a vital and active partner in the local continuum of care, HOPE for the Homeless, and has served as a central resource for fighting hunger in Northwest Louisiana since 1997. The Food Bank's goal is to ultimately end hunger in the seven parish area they serve by ensuring a consolidated network for collecting and distributing food to the needy.
The New England Patriots may have won Super Bowl XXXVIII, but the Food Bank scored a touchdown of its own on "Souper" Bowl Sunday, and many needy residents in the area will benefit from their efforts.