To say Mark Buchbinder believes in the value of education and community involvement is an understatement. The Miami Field Office employee recently helped spearhead efforts that lead to a commitment by him and a local foundation to 51 inner-city first-graders to provide them with full college scholarships upon their graduation from high school.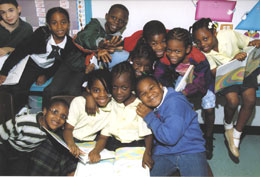 Some 50 first graders of the class of 2015 at Phillis Wheatley Elementary School were happy to have received the support of the "I Have A Dream" Foundation
"Educating children is often about providing them with the right role models," says Mark, who got involved with the "I Have a Dream" Foundation because of his desire to set an example for his own children and grandchildren about the importance of serving their community. As a result, Mark co-sponsors the "I Have a Dream" Project at Phillis Wheatley Elementary, and says he looks forward to helping the class of 2015 achieve success and become productive citizens in their communities.
Mark, in his quest to help the first-graders, reached out to Stephanie Trump, a local real estate magnate, who has been involved in four other similar South Florida projects. (And "no," Ms. Trump is not related to the New York real estate tycoon who shares the same surname.)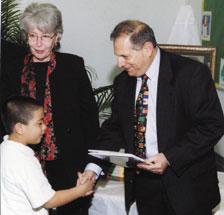 Mark Buchbinder and his wife Margie give the Dr. Seuss book "Oh, the Places You'll go!" to one of the 50 "Dreamers." All the kids received a copy of the book.

To receive the scholarships to in-state schools, the kids and their parents are required to sign a contract in which the child pledges to graduate from high school and vows to stay free of drugs, crime and unwanted pregnancies. In exchange, the kids have access to a full-time project coordinator, afternoon tutoring and summer program that helps them prepare for the following school year.
In Miami, there are now five such projects with a total of 459 Dreamers -- the organization's term for children who participate in the program.
The Overtown project is one of 182 throughout the nation. The Foundation has helped more than 13,000 students from low-income communities reach their education and career goals by providing a long-term program of mentoring, tutoring and enrichment with an assured opportunity for higher education. Sponsors make a 10-15 year commitment when they "adopt" a grade of children from a school or same-age group from a housing project.