At the Interfaith Hospitality Network in Spokane, Director T.J. Sather is always pleased to hear about how former guests have new jobs, new apartments or perhaps even new babies. Though the IHN has a strong track record in finding housing for people, Sather found herself a couple of years ago wondering what other things IHN could do to help families better prepare for their futures.

Moms learn how to prioritize spending money with "budgeting game"

Sather's solution was to create a formal program to help guests navigate the many obstacles that low-income families face. With the help of HUD support, she hired Sheila Morley to create LifeSkills classes, providing aftercare support, information, advice and real-life solutions.
Now in their second year, LifeSkills classes are clearly a hit. All of the families currently at IHN program attend the twice-monthly classes, as did 64 percent of the families that left in the past year.
"The additional support has really made a difference," says Sather. "Ninety-five percent of families who moved into housing since August 2002 are still at the same location. We weren't seeing that before. It says a lot about the importance of ongoing support."
LifeSkills classes cover such topics as parenting, time management, nutrition and budgeting. Featured speakers have offered credit counseling and discussed ways to conserve energy, thus save money. Attendees learn everything from where to find a food bank to how to access resources available to low-income families, such as vaccinations for children, free school lunches and energy assistance. One class is held at a grocery store, where Morley leads attendees on a mock shopping trip teaching them how to buy a week's worth of nutritious groceries on a limited budget.

Children create marble paintings while parents are in LifeSkills class


The classes have made a huge difference for Aurora Perez. She, her husband and their two children were in the IHN for less than two months. Now they live in their own house and Aurora attends school part-time. "Before the IHN started this program, we shied away from burdening them with our problems," Aurora explains. "We were ashamed to keep asking for help. But now, when we come back for the classes, it gives us a chance to not only learn new things, but to talk to people who already know us and our situation on a one-on-one basis."
An unforeseen but welcome development has been the sharing of ideas among families at LifeSkills classes. "It has turned into an incredible twice-a-month support group," says Morley. "The families who have left the IHN share their struggles and solutions with those still in the IHN."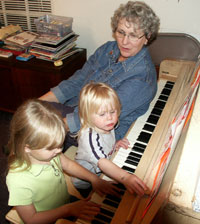 IHN board member watches "pianist sisters" while parents are in LifeSkills class


"I get information from people who have been through the same things I have," says Debbi Hammond, an IHN guest who has attended many classes. "I enjoy attending the classes because I want to acquire as much information as I can to deal with obstacles that may come my way and to improve my opportunities for success."
"Sometimes we all need a little support, regardless of our economic position," says Sather. "At IHN, we try to make sure that families who need a little extra help get it."
While the focus of the classes is education and training, LifeSkills recently added a new element to the mix -- fun. "We try to show families there are inexpensive fun things to do," Morley says. "We might talk about free family-friendly events or a movie house that offers free or discounted showings. We stress the idea that within a family you don't have to be rich to enjoy one another."
Fun is the operative word for the children whose parents attend LifeSkills. Volunteers engage the children in activities while the parents attend class. "The kids usually do a craft," says Morley. "We also have a social worker come in and lead a group for the children, which lets them discuss the stresses of being homeless. But mostly, it's a fun evening for everyone."
Support, information, camaraderie and fun -- all ways to show that people care. That's what the Spokane IHN delivers through its LifeSkills classes.