It was a day of poetry, artwork and mixed emotions as 90 members of the Department's Oklahoma City Field Office completed their move on March 15 to a new Federal Building.

Shown (left to right) at the graffiti party are Bam Viloria, Susan Hunt, Luciann Whitthorne, Viola McNeely and Jenny Parsley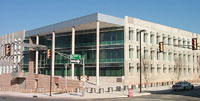 Oklahoma City staff moved into the new Federal Building on March 15

Click to enlarge
"This is about moving forward," said Robert Roddy, who works in Housing. "The act of terror we experienced will neither define nor dominate the remainder of our days for we know just how precious and fragile life is. Like so very many, I once had my concerns about returning to a federal building, and I fully realize the new Federal Building is not indestructible. However, it is stronger and better than before…like all of us."
"I am looking forward to working in the new building, and going back to HUD's previous neighborhood," said Michael Reyes, another employee. "The Federal Building was built with the most advanced security features available, which I find comforting."
Oklahoma City employees also used the day to say goodbye to the building that has been their office since 1995. They commemorated the move with a hot dog feast and graffiti party where everyone could "leave their mark" and paint their remembrances on the wall of the old computer training room.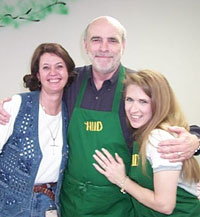 Robert Roddy shares memories with Sonja Key and Shelia Alexander. Several employees wore t-shirts on which were the words from a poem written by Robert: "The years have passed. Our journey done. The road wound back where we'd begun. Where hope and courage would not fall. We plant our feet. Survivors All."



The activities were a welcome diversion from weeks of packing boxes for the move, and they brought the staff together to share memories and good fellowship.
At the new office employees were greeted by Regional Director Cynthia Leon and her deputy, Don Babers. "The move is an important step forward for employees in Oklahoma City," said Acting Office Director Jim Colgan. "I could not be more proud of how well all the staff is making the transition."
For 15 employees, the memories of April 19, 1995 were just too great to overcome and have received permission to work from an alternate facility three days and from home two days each week. They'll work exclusively from home for the next few weeks until renovation of the alternate work facility is completed.
The bottom line is that regardless of the location, the Department's mission to serve the citizens of Oklahoma continues uninterrupted.