In the aftermath of Hurricane Lili in 2002, Chicago native James Ahlers went to Louisiana to find work, but instead soon found himself homeless when he spent nearly all his earnings on lodging. "I was supposed to go back to Chicago, but I never did," Ahlers said.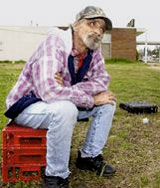 James Ahlers came to Louisiana in search of work but soon joined the ranks of the area homeless.

Determining the number of homeless in any part of the country can be difficult, and even more so in rural areas such as central Louisiana where the homeless are likely to be found in vacant outbuildings, wooded areas and even barns. Homeless advocates have learned that homeless people often move from place to place to find food, a roof over their head and safety - basic needs to all of us.
Volunteers and homeless assistance providers recently began this year's effort to find the homeless and assess their needs. HOPE House Executive Director Wanda Ozier, in search of financial assistance, then uses those numbers as part of a report to HUD on the cumulative homeless population in central Louisiana.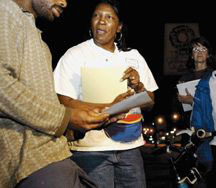 Dorothy Thomas of the Central Louisiana Homeless Coalition speaks with a homeless man.

HOPE House and other area homeless providers use ServicePoint, an Internet-based tracking and case management system to collect demographic data and report detailed information on homeless characteristics. The goal of collecting better data is one initiative that will help the community and others develop housing and programs that get people off the street and into permanent housing with support that can be maintained over time. Talking directly with the homeless, learning their characteristics and asking about their needs is far more effective than making assumptions often based on stereotypes and incomplete information.
According to area advocates, programs for the homeless in central Louisiana should improve in couple important ways as a result of efforts to more effectively count the homeless, which one recent night totaled nearly 350 in four parishes.
The very act of engaging volunteers and the community in finding and counting area homeless has helped raise public awareness and efforts to serve them, says Suelynne Mickey, program coordinator. As a result, they receive more calls from churches offering assistance and more calls from people seeking help for the homeless.
Regardless of how the homeless are counted, the coalition estimates that shelter is available for only some 1,500 of the estimated 2,800 homeless, resulting in a "bed gap" of nearly 1,300. And as for James Ahlers, after talking with volunteers, he's still homeless, walking down the road in search of shelter for the night.