Isaac Keen always knew he was different, even before he was diagnosed with Bipolar Disorder at 28. He says in many ways, that diagnosis was the most liberating experience of his life. As he puts it, "I've got a mental illness. So what?" Many folks agree with Isaac's assessment, saying his positive attitude has helped him overcome the hurdles he's faced.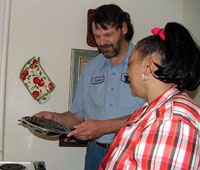 At the Tulsa Housing Authority's Pioneer Plaza, Isaac Keen troubleshoots a problem with the stove at resident and friend Sheila William's apartment.


At times, however, the hurdles seemed high. In 1990, Isaac was seriously injured in a car accident. During several years of difficult physical recovery, he attended a local community college where he maintained a high grade point average but eventually needed public assistance because he neglected to treat his mental illness.
By 1993, Isaac had dropped out of college, applied for Social Security Disability Insurance and become a resident at the Tulsa Housing Authority's LaFortune Towers, where he would live for six years with SSDI his only income. In 1999, a friend from church encouraged Isaac to apply for a job at the Tulsa Housing Authority, and soon he was a custodian at the housing authority's main office.
Isaac says that having a safe, decent and affordable place to live makes it possible for him to focus on recovery. In addition to maintaining regular appointments with his therapist, Isaac also attends the bipolar support group at the Mental Health Association in Tulsa.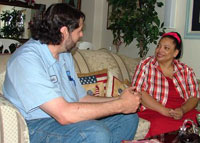 Sheila Williams enjoys a friendly chat with Isaac after he worked on her stove. If you let it, Isaac says, Bipolar Disorder will cause you to snatch defeat from the jaws of victory.

Today, Isaac works in the maintenance department at a high-rise development operated by the Tulsa Housing Authority for the elderly and people with disabilities. He's been there for three and a half years and loves his job, especially the people. He no longer receives any public assistance and has a market-rate apartment that he shares with his four cats - Smudgey, Rosie, Beth and Tommy.
Isaac often talks about his co-workers and the residents where he works, and he says his relationship with them is the same as family. His road to self-sufficiency was long and crooked, but other people see him as an inspiration and an example of what can be accomplished.
Recognizing the important role housing plays in the recovery of people with mental illness, from September 29 through October 1 the Mental Health Association in Tulsa, in conjunction with HUD and a number of national leadership partners, will host the 2004 National Zarrow Mental Health Symposium - A Place to Call Home: Exploring innovative approaches to housing for people with mental illness. (www.mhat.org/zarrow/overview.htm)