Jeneice Lewis, who grew up at Gilpin Court, a public housing complex in Richmond, Virginia, has plans to add some very important letters to her name: Ph.D.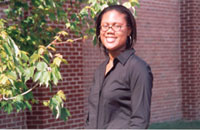 Jeneice Lewis, recent college graduate and aspiring Ph.D., calls Gilpin Court, a public housing complex in Richmond, her home.


This fall the 21-year-old, who earlier this month graduated from Mary Baldwin College, will move west to begin her studies under a full, five-year scholarship for a Ph.D. in applied sociology at Baylor University in Waco, Texas. And when, just a few years from now, Ms. Lewis dons cap and gown to receive her advanced degree, she will become, says the Richmond Redevelopment and Housing Authority, its first resident to earn a doctoral degree.
"Jeneice is a wonderful example of the many young people in our communities who are doing great things," said Authority executive director Shirley Hill-Christian, noting that Jeneice won a Tomorrow's Promise scholarship from the Authority upon graduating from high school. Jeneice, she adds, is sure to "excel in all her endeavors."
Exactly what you'd expect from a young woman who told The Richmond Times Dispatch that, "I think my hobby is school."
But her interest in sociology grew out of growing up in Gilpin Court. "Sitting with my Mom out front, seeing the people passing by" she told a Times-Dispatch reporter, "I think about how complex they are, how complex the neighborhood is, about how these complex people can be labeled so easily." But she added, "I get on my friends' nerves for overanalyzing everything, even the cartoon character 'Sponge Bob.'"
And, as she heads west, she's sure to miss home. "No matter what anyone says about public housing," Jeneice says, "I love my community for keeping me safe and providing shelter and a foundation for my life."